Jennifer Stoddart receives honorary degree from McGill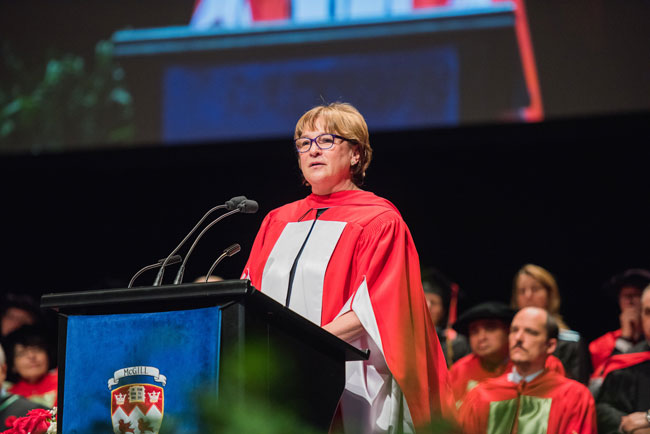 Jennifer Stoddart, BCL'80, former Privacy Commissioner of Canada, received a Doctor of Laws, honoris causa at the University's fall convocation ceremonies on Tuesday, November 10, 2015 at Place des Arts. In her address, she appealed to graduating students to have empathy for others. "What will really distinguish you as you move around our society in Canada and beyond is the respect you show to your fellow citizens," said Stoddart. "Respect seems to be on an abrupt decline. I conclude this from my work as Privacy Commissioner which exposed me to some of the darkest doings – particularly on the Internet – that I could ever imagine."
Jennifer Anne Stoddart a consacré sa carrière au service public, ce qui témoigne éloquemment de sa détermination à défendre les droits de la personne, ainsi que de son engagement envers cette cause. Après avoir obtenu un baccalauréat en droit civil de l'Université McGill, Mme Stoddart a été nommée directrice, puis vice-présidente ‒ de 1987 à 2000 ‒ de la Commission des droits de la personne et des droits de la jeunesse du Québec. Au cours de cette période, elle a rédigé, avec trois coauteures, L'histoire des femmes au Québec depuis quatre siècles, un ouvrage phare devenu une référence en matière d'études sur les femmes au Canada.
In 1996, she was appointed president of l'Association canadienne-française pour l'avancement des sciences. In 2000, she became president of the Commission d'accès à l'information du Québec, where she promoted greater transparency for information held by the government. In 2003, she was appointed Privacy Commissioner of Canada. During her term, she worked to ensure compliance with Canada's privacy laws in an age where personal information is in constant global transit.
Deux jeunes diplômés au Tableau d'honneur de l'École du Barreau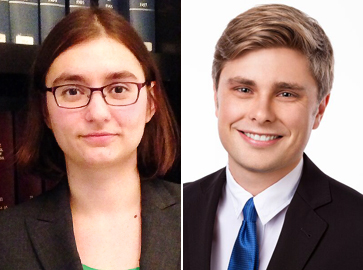 Corina Manole, BCL/LLB'15, et Étienne Cossette-Lefebvre, BCL/LLB'14, ont terminé respectivement au 1er et 2e rang des finissant-e-s 2014-2015 de l'École du Barreau. Ayant obtenu les deux meilleures notes de l'ensemble de leur groupe de 1 092 étudiants, ils ont été inscrits au Tableau d'honneur de l'excellence 2015 de l'École du Barreau.
La Faculté de droit présente ainsi à Corina Manole et Étienne Cossette-Lefebvre ses plus chaleureuses félicitations, et leur souhaite le meilleur des succès dans leurs carrières!
Law grads distinguish themselves on the federal scene!
Over 15 Faculty of Law alumni ran in the federal ballot, and eight won in their ridings in an election that captured Canada's attention: Professor David Lametti,BCL'89, LLB'89 (LPC; LaSalle–Émard–Verdun, QC), Will Amos, BCL/LLB'04 (LPC; Pontiac, QC); Anthony Housefather, BCL'93, LLB'93 (LPC; Mont-Royal, QC); Joël Lightbound, BCL/LLB'11 (LPC; Louis-Hébert, QC); Catherine McKenna, LLB 99 (LPC; Ottawa-Centre, ON); Marc Miller, BCL'01, LLB'01 (LPC; Ville-Marie–Le Sud-Ouest–Île-des-Soeurs, QC); Nick Whalen, LLB'01 (LPC; St. John's East, NL); and NDP leader Thomas Mulcair, BCL'76, LLB'77 (NDP; Outremont, QC). Furthermore, McKenna was made Minister of the Environment and Climate Change.