On 26 November 2021, acclaimed legal scholar Angela Swan was awarded a Doctor of Laws, honoris causa, and delivered the commencement address at the Faculty of Law's fall convocation ceremony. She was introduced by Dean Robert Leckey, Ad E.
Professor Swan has a distinguished record of achieving and maintaining the highest professional standards of conduct, ethics, reliability, and diligence. Her name is synonymous with excellence in contract law and she is a shining example of a dedicated teacher and mentor.
Professor Swan has inspired and informed several generations of law students. Her accomplishments are all the more remarkable for a trans woman of her generation. She is a proud member of the LGBTQ2+ community and contributes to its ongoing development.
Below are selected excerpts, edited for brevity, from Professor Swan's address to the graduating students.
Nous avons le droit puisqu'il nous met en mesure d'accomplir ce que nous ne pourrions même pas envisager sans lui. En tant que juriste, mon domaine principal a été le droit des contrats. Le principe directeur de ce domaine […] est la protection […] de ceux et celles qui se fondent sur les promesses d'autrui. Cet objectif reconnaît le rôle crucial des opérations donnant — donnant et le rôle des liens pécuniaires, dans une société où règne une économie de marché.
"If you keep this purpose firmly in mind, you will, whether as solicitor, barrister or judge, be much more likely to give good advice, make helpful and useful arguments, or good decisions. The really bad decisions of Canadian courts — and there are some — are almost always the result of the court forgetting that purpose."
 As lawyers, our job is to help the judges we appear before see that the result for our clients is just. Tous les praticiens doivent tenir une obligation à cœur, qu'il s'agit d'avocats ou de notaires, œuvrant auprès des tribunaux ou non. Tous doivent entretenir une conscience aiguë de ce qu'ils sont en mesure de faire pour leur client. L'honneur en réfléchira sur vous-même et sur votre profession. On peut ressentir une immense satisfaction d'un travail bien fait et selon l'honneur.
"Je suis une femme transgenre. Expect Acceptance […] has been my motto or governing principle since I started down the road to become a woman. I have met nothing but kindness and acceptance from my family, my friends, my firm, my students and the legal profession. I have been very fortunate in this experience."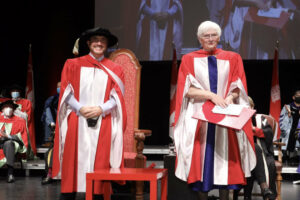 Aux gens qui vivent aujourd'hui avec les démons que j'ai subis pendant plus de soixante ans, je peux vous déclarer : « Allez-y ; les récompenses seront au-delà des frontières de ce que vous auriez pu imaginer ». Aux [autres] : je vous incite à devenir l'allié des gens qui, tout comme moi, ont dû faire face à d'intenses malaises, en voulant être autres que nous n'étions. Nous avons besoin d'alliés. Nous avons besoin de gens qui témoignent haut et fort qu'il n'y a aucune raison d'avoir peur de nous; nous voulons simplement une acceptation suivant ce que nous sommes. 
The most important human quality is kindness. Kindness means treating others as you would like to be treated yourself. Cette règle se vit en faisant preuve de respect envers toutes les personnes que vous rencontrez ou auxquelles vous avez affaire. [Elle] enseigne la gentillesse envers [tous].
"I can sum up what I have said in three rules to live by. The first rule [is]: Don't be a scumbag […].The second rule is: Don't be greedy […]. The third rule is very important: Always go the bathroom before a Zoom or conference call."