McGill law professor named to outer space group in The Hague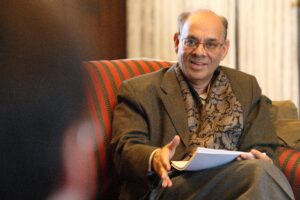 A professor at McGill's Faculty of Law has been named to a prominent group of distinguished legal experts working to develop arbitration and settlement rules for disputes related to outer space.
Ram Jakhu, LLM'78, DCL'83, an Associate Professor at McGill's Institute of Air and Space Law and an expert in space and public international law, was appointed to the Advisor Group on Optional Rules for Arbitration of Disputes Relating to Outer Space, within the Permanent Court of Arbitration in The Hague.
While there are currently no specific and detailed arbitration or settlement rules for space-related disputes, Professor Jakhu says the need for them has become more pronounced with the accumulation of space debris – also called space junk.
"Space near the Earth is increasingly crowded with junk and operational satellites both," said Professor Jakhu, citing last February's collision of a dead Russian satellite with an active American Iridium satellite, which disrupted Iridium telecommunication services. "As space activities continue to expand, disputes will inevitably arise."
The Advisor Group will examine the need for arbitration rules, and map out their possible implementation. Their recommendations will be submitted to the Court's Administrative Council, which consists of 110 Members States. Eventually the group's work will become part of the official body of optional arbitration rules used by the Permanent Court of Arbitration.
While Professor Jakhu says the initiative is "very important and timely," he is no newcomer to the realm of international collaborations surrounding space security. In 2007, he was appointed Chairman of the Legal and Regulatory Committee of the International Association for the Advancement of Space Safety, and named Fellow of the IAASS for his significant contributions to the field of space safety.
Professor Jakhu also chaired a recent conference at McGill to tackle the legal void surrounding space debris – the International Interdisciplinary Congress on Space Debris, co-hosted by McGill's Institute of Air and Space Law, in collaboration with the Cologne University Institute of Air and Space Law in Germany and the International Association for the Advancement of Space Safety in the Netherlands.
The second segment of this conference will be held in April 2010 by the University of Cologne's Institute of Air and Space Law, in Germany.
―By Lysanne Larose