On October 31, the McGill Research Group on Health and Law (RGHL) welcomed over 100 students, lawyers, academics, sex workers and social service providers to a standing-room-only panel discussion of "Sex Work, Rights, and the Criminal Law: Reflections on Bedford v. Canada," a case that will soon be heard at the Supreme Court of Canada.
"The panel could not have been more relevant and timely," said Cristina Toteda, a student coordinator of the RGHL currently in her final semester at the Faculty, "as the Supreme Court of Canada had granted leave to both the appeal of the Crown and the respondents' cross-appeal just five days earlier."
The multidisciplinary panel addressed various issues associated with the Ontario Court of Appeal's decision in Bedford v. Canada, a constitutional challenge by three former or current sex workers concerning the validity of three provisions of the Criminal Code: Section 210, which outlaws the keeping of a "bawdy house"; Section 212(1)(j), which bans people from living off the avails of prostitution; and Section 213(1)(c), which prohibits communicating in public for the purpose of sex work.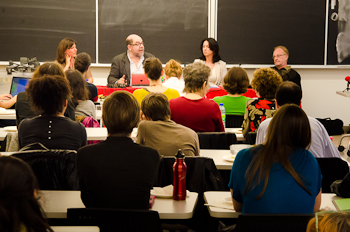 Professor Daniel Weinstock, a renowned philosopher who teaches law and ethics courses at McGill, opened the panel by providing a theoretical framework, and raising questions of moral philosophy. Specifically, he asked whether one might come to deal with morally controversial practices by bracketing the normative questions at stake, and instead mitigating or addressing the negative consequences of those practices.
Professor Alan N. Young, of Osgoode Hall Law School at York University, served as counsel in Bedford v. Canada. As such, Young was able to contribute an insider's perspective to the Charter challenge. He supplied background to the litigation, and provided remarkable details as to the history of the Criminal Code provisions involved.
The final panel member, Tara Santini (BCL/LLB'11), is a member of Stella, a Montreal-based sex-workers' rights advocacy group, and has long worked with marginalized communities. She also served as a Stella Consultant for the Intervening Sex Worker Coalition in Bedford v. Canada. Santini provided the often neglected viewpoint of sex workers themselves regarding the litigation, stating that sex workers don't want their trade to be surrounded by criminal barriers that make its practice more dangerous.
"This was an important discussion to have," remarked moderator and co-convenor of the RGHL, Professor Alana Klein, who teaches criminal law courses at McGill. "I hope it provided the diverse audience with new ways to think about and understand the relationship between law and sex work, so that they might feel better equipped to engage with and respond thoughtfully to the Supreme Court of Canada's decision when it comes out."
After all, adds Klein, "we are becoming increasingly aware that legal questions are also social, empirical, philosophical, historical, and personal questions. This is especially true where the law engages with sex work, which is fraught with stigma and misconceptions."
Text by Bridget Wayland and Cristina Toteda.
Photos by Lysanne Larose.