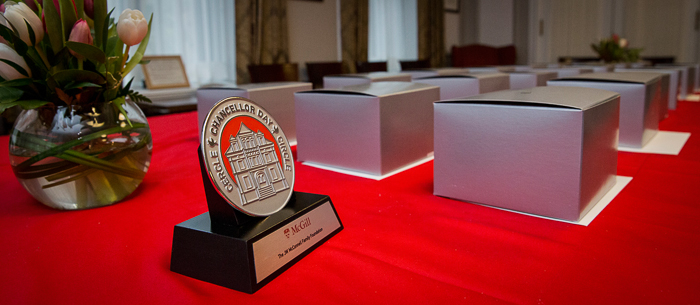 There was more than one cause for celebration at the Faculty over the Homecoming weekend. Over an elegant, yet convivial luncheon, Dean Robert Leckey officially welcomed dozens of distinguished alumni and friends of the Faculty to the newly formed Chancellor Day Circle.
Named in honour of Charles Dewey Day, first chancellor of McGill University and, as one of the codifiers, a central figure in the civil law of Quebec, the Chancellor Day Circle was founded to acknowledge the Faculty's most significant supporters. One of the highest honours conferred by the Faculty, admission to the Circle is bestowed upon leading donors who have made cumulative contributions of $100,000 or more over the past 50 years.
The inaugural luncheon held in the Stephen A. Scott room was the first of a series of exclusive activities that will be held for the members of the Circle. The Faculty will also acknowledge them in Law alumni publications, and give them advance notice and access to the Faculty's public events.
In his remarks, Dean Leckey highlighted the importance of showing gratitude towards the people who make the Faculty's success possible. Gifts to the Faculty support countless programs that make McGill a world-class leader in legal education, from curriculum renewal and research funding to classroom modernization, scholarships, and extracurricular activities support. "Je suis émerveillé chaque jour d'apprendre ce que nos étudiants et étudiantes accomplissent, et je peux vous assurer que grâce à votre soutien, leurs vies sont changées à jamais par les expériences qu'ils vivent durant leurs études," thanked Dean Leckey.
Click to enlarge.
Photo credit: Nicolas Morin.