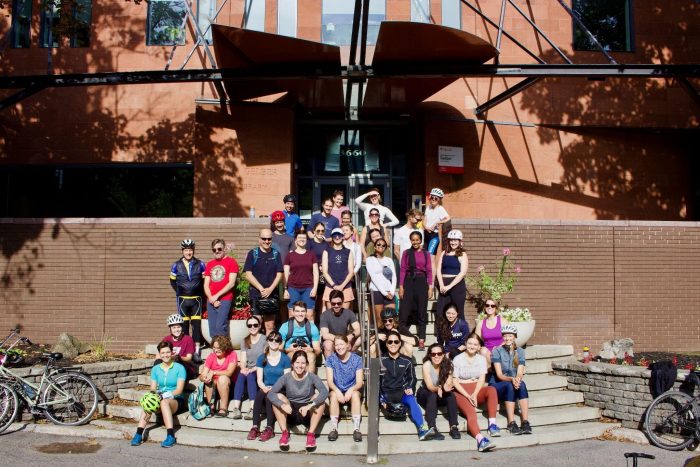 The Christie Bike Ride, as it is commonly known, was founded by McGill Law students in 2009 to honour Dugald Christie and pursue his legacy of striving for a just legal system. Christie was both an advocate for marginalized communities and an avid cyclist. He is known for having led a constitutional challenge to an imposed tax on legal services, which made legal services prohibitively costly for low-income individuals.
In 2006, Christie began a cross-country cycling trip with a petition in his pocket to raise awareness about the need for justice reform. He planned to cycle from British Columbia to Ottawa to meet with decision-makers and advocate for better financing of the legal aid system. He was tragically struck and killed by a vehicle four months into his journey.
This year, participants raised more than $8,000 for The First Peoples Justice Center of Montreal, an NGO that helps Indigenous people navigate the justice system — or avoid it altogether. The Center offers culturally appropriate services, guidance, and accompaniment to Indigenous people involved in the justice and correctional system.
The team at the Centre was grateful for the support and said, "funds like these allow us to explore creative and community-based justice alternatives, such as consulting with knowledge keepers and Elders to better understand Indigenous justice." Supporting this wonderful organization felt particularly meaningful ahead of Canada's inaugural National Day for Truth and Reconciliation, which took place on 30 September, 2021.
Adjunct Professor the Hon. Alexander Pless, BCL'98, LLB'98, a long-time supporter of the Christie Bike Ride, welcomed participants by sharing Christie's story. A firm believer in making the justice system accessible to all, Pless believes that "barriers to accessing justice imperil the integrity of our legal system. I am proud to ride with students and colleagues to raise awareness and resources to address the problem."
Blessed with excellent weather, the participants set off on the 35km and 50km routes, spending the day meeting new classmates and getting to know professors outside the classroom. At the halfway mark, the group came together to share a meal, provided thanks to funding from the Alumni Student Engagement Fund, along the St. Lawrence River.
The 2021 iteration of the Christie Bike Ride was organized by students Cassandra Morris, Emma Lodge, Garima Karia, Niamh Leonard and Sarah Nixon. The ride was an all-faculty affair: students, professors and alumni all contributed to making the day a success, whether by riding along, donating to the cause, or volunteering to assist with the day's logistics.
A cherished annual tradition, the Christie Bike Ride marks the start of the school year with an important reminder: a legal education confers tremendous privilege, with which comes a responsibility to assist those who live on the margins of our legal system.
Each law student will hopefully do so in their own way, whether through pursuing a career in advocacy, joining social movements, offering their services pro bono, or volunteering in their communities. All students, professors and alumni can add another item to their list: to join us for the 14th Annual Christie Bike Ride in September 2022!