Former classmates Catherine McKenzie and Nadia Lakhdari are friends, law grads… and first-time published novelists.
Catherine McKenzie's novel was released in January.
Catherine McKenzie, 36, and Nadia Lakhdari, 33, have a lot in common. They're friends, graduates of McGill's Faculty of Law… and now, these Class of '99 alumni are first time published novelists – one in French and one in English.
Both women also have full-time careers and families in Montreal. McKenzie, BA'95, BCL'99, LLB'99, is a partner with the law firm Irving Mitchell Kalichmann and a lecturer at the Faculty of Law. Lakhdari, BCL'99, LLB'99, is a member of the New York Bar but is back in Montreal working in communications – and expecting her second child.
inFocus recently met with these two multitaskers to talk about law, writing and time-management.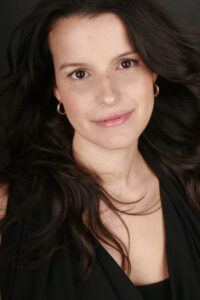 What was your reaction when you realized you were both coming out with your first novels at the same time?
Catherine McKenzie: We were both at our law school reunion recently, and I was telling people, 'Oh, I have a book coming out,' and then I heard Nadia behind me saying, 'Oh, I have a book coming out.' That's how we both found out.
Nadia Lakhdari: Catherine and I had actually caught up on news earlier in the night, but we had stuck to the more mainstream professional answer, like you're a lawyer, I'm not a lawyer. So when we made the connection, it was quite funny.
McKenzie: They're also the same genre of novel, which has nothing to do with the law in either case. The term 'Chick Lit' is sometimes used in a pejorative way, but I would say our books probably both fit in that genre – though I try to draw some distinctions from the stereotypes about that genre. Spin is about a journalist who follows a celebrity into rehab, undercover. I think the subject matter of being in rehab and surrounded by characters addicted to drugs or alcohol is a little more serious than some of what those books typically address, though I try to address it in a lighter way.
Lakhdari: Éléonore is a family saga that follows three best friends from their teenage years to adulthood. It's in two parts, the first from the ages of 15 to 25 and the second from 25 to 35. The story has very deep Montreal roots, because the three friends are based in Outremont, and they all go to Brébeuf. It's fun and past-paced, and I think because I lived in New York for two years and New Zealand for eight years, it has more of an English feel, but I've written it in French, in a similar style to what I enjoy reading in English.
Catherine McKenzie is the author of Spin.
You both have full-time careers – where do you find the time to write?
Lakhdari: Writing happens when there's a window in my life. When I decided to leave my lawyer's job in New York, I had three or four months before I moved onto the next step and I filled them up with creative writing. Then a few years later I was actually in Montreal for a five month visit, and I wrote a complete manuscript. I wrote the bulk of this book when I had a baby between three and twelve months old, and the minute he'd go down I would be writing at my computer.
McKenzie: Spin is the fourth novel I've written. About four or five years ago I just got this idea for something that was semi-autobiographical and I sat down and wrote a whole book. The second book I wrote is coming out next year, and the third one is sitting in a drawer. It's actually set when we're in law school and it's more of a murder mystery. I try and write 750 to 1000 words a day and some days it's 200 words and some days it's 2000. But basically since I started in January 2006, I have written something every day.
You haven't written about the law, but what credit – if any – goes to your legal education?
McKenzie: Law does teach you the discipline required to write a book. You have to learn how to write when you're not feeling inspired. There's also a lot of writing in my job. There's a tendency in legal writing to use words like heretofore and therewith, but that's not clear, so I teach my students to write simply. I think good writing is good writing.
Lakhdari: I spent a whole year doing one of the moot court competitions at McGill, and that took every breathing minute and hour I had. Writing a whole novel is an extremely daunting prospect, and I think having done a very massive work before gives you confidence, even though it's in a completely different field.
What are your aspirations in terms of writing?
Lakhdari: My dream is for my series to do well enough that somebody will want to publish me again. My ultimate dream would be for it to do so well that I can do it full time, but that's something that could be many years down the line.
McKenzie: I don't know if I could see doing it full time. But it's great that somebody is paying me to do something I was doing for fun, on my free time. It would be cool for it to keep being a part of my life.
―By Laurel Baker
Spin and Éléonore:
Catherine McKenzie's novel Spin was released in January by Harper Collins Canada, and has been at number 15 on The Globe and Mail's bestseller list ever since. For information, visit her web site at www.catherinemckenzie.com
Nadia Lakhdari's series Éléonore will be published by Les Éditions Goélette in two parts – the first in April, and second late 2010. For information, please visit www.editionsgoelette.com