Law students the world round are known for being bright and motivated. But at McGill, our students prove time and time again that legal education is more about community than competition. From scrubbing rubber ducks to setting out on a charity bike ride to improve access to justice, dozens of Faculty of Law students are showing their commitment to public service in unique ways.
Plastic fruits of labour
It's been an annual tradition for years – the day before the McGill Childcare Centre opens, daycare staff get together to scrub plastic fruit and rubber duckies, wipe down tables and chairs, and generally prepare for the influx of more than a hundred children on Sept. 1.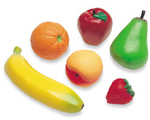 But clean-up day was a lot easier this year, thanks to 72 students from McGill's Faculty of Law who volunteered to help. "They came out early on a Monday morning to donate their time to doing some really dirty tasks, with big smiles on their faces," explains Lisa Gallagher, the Centre's Executive Director.
In addition to the usual toy sanitizing and paint touch-ups, the law students took on the type of chores that daycare staff don't usually get to until part-way through the term (if at all) – like organizing the supply cupboard and sorting books by category – songbooks, alphabet books, holiday books, and more. "Having that much additional manpower was a great kick-off to the beginning of the year," says Gallagher. "My staff could not stop talking about it."
The clean-up initiative was spearheaded by Charmaine Lyn, BA'96, BCL/LLB'03, the Assistant Dean (External Affairs), as an orientation activity. "We wanted to give students the opportunity to get to know each other, and do productive work at the same time," she says.
First-year students jumped at a chance to come out to help – along with some second- and third-years, and faculty and staff members including Interim Dean Daniel Jutras, Associate Dean (Academic) David Lametti, BCL'89, LLB'89, and Assistant Dean (Student Affairs) Ali Martin-Mayer, BSc'98, BCL'02, LLB'02.
"It was a fun day for the people who came out," says Lyn. "But it's also indicative that our students see the value in service to others. That's something we look for during the admissions process, and hope to foster and encourage while they're here."
Since the big clean-up day, Gallagher has been approached by students offering to volunteer throughout the year. Plans are also in the works to organize a second annual event as part of next year's orientation.
"We'll try to involve even more faculty and staff and upper level students," says Lyn. "It's a great way to meet people in a relaxed environment, and it's pretty gratifying work because the results are palpable. You go from having a dirty toy to a clean one, so you can actually see the fruits of your labour. Plastic fruits, in this case."
Gallagher can point to another palpable result – the McGill Daycare Centre has never been so clean or organized: "For us it means we're starting off on a better footing because we've got so much more done than usual. That means we can give that much more attention to the children."
Wheels of justice
On a Saturday morning in early September – just a week after the orientation clean-up – more than 50 McGill law students got out of bed to participate in the inaugural Christie Community Bike Ride, an event meant to raise awareness about access to legal aid for disadvantaged groups.
By riding more than 100 km, the students were able to raise almost $4,000 for Project Genesis, a Montreal organization run largely by volunteers that provides basic rights to those in greatest need, including access to legal help.
"It went very, very well," says second-year law student Tanya De Mello, one of the event's principal organizers. "It was so inspiring to be together with a group that would get up at eight on a Saturday morning to bike this far in community and in solidarity."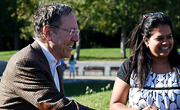 McGill professor (on leave) and current Member of Parliament for Mount-Royal Irwin Cotler, BA'61, BCL'64, was on hand to see the riders off and speak about the importance of their cause. Cotler was a founder of Project Genesis as a student, and was good friends with Dugald Christie, for whom the event is named.
Christie was a lawyer who set up pro-bono clinics across western Canada, and decided to ride his bike across the country to raise awareness of access to justice issues. Sadly, he was killed in an accident while on his fundraising trek.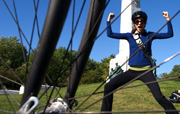 "We wanted to honour the story of a man who cared so much about the fact that there's such a proportion of people in Canada that don't have access to the law," De Mello says. "This is a person who could have made hundreds of thousands as a corporate lawyer, and instead he chose to defend disadvantaged people who needed legal help. We need to go into our classrooms thinking about that."
The riders made it all the way to the McGill Outdoor Club's cabin in Shawbridge, and spent the evening there doing activities related to the event and capping the day off with a campfire.
As part of the event, organizers also asked the participants to write themselves a letter about why they came to the Faculty of Law, which De Mello says will be returned to them at the end of the year, and again at graduation. "A lot of people come to law school because they want to help improve access to justice, so it's a way of reminding people of why they came to law school, what they want to contribute while they're here and what they want to get out of it."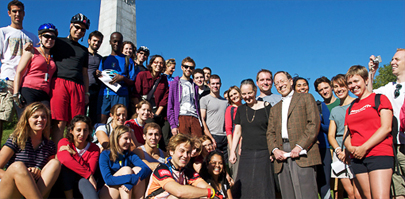 For De Mello, the ride was a chance to both do some good for the community and also build a spirit of community among the participants. "People have the impression that law students are cutthroat, but that's not the case with our class at all," she says. "We're developing a community of people that are going to work together, both in law school and hopefully outside of it, and that are going to fight together for common causes."
De Mello plans to make the bike ride an annual event, with a different charity receiving the proceeds every year. She is also one of several students involved in the new Community Law student group, which has begun organizing weekly "teahouses," and other "activities that make us feel supported, like we're part of a family, and part of the larger community."
Read about other Faculty of Law students, alumni and faculty who are making a difference in the community. Download the latest edition of InFocus 2009 [.pdf].
Cycling photos by Matthew Gore and Mara Verna.