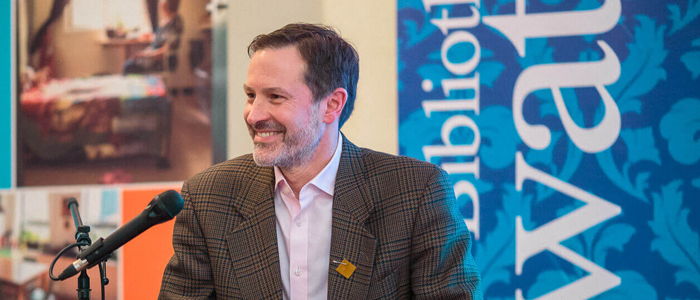 James Hughes speaking at the "Beyond Shelters: Solutions to Homelessness in Canada from the Front Lines" book launch, a book that he edited in 2018. Photo from the Old Brewery Mission site.
In tough times, many Montrealers have turned to organizations like Centraide, Chez Doris, Moisson Montréal and the Old Brewery Mission for invaluable support. Meet James Hughes, BCL'91, a McGill Law grad who leads one of the city's most important charitable organizations.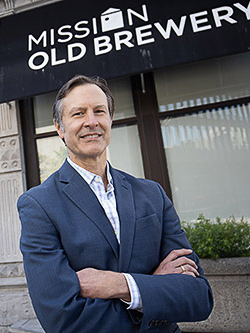 By Christopher Curtis, McGill News Alumni Magazine

James Hughes, BCL'91, was a law student at McGill in the early nineties, throwing a fundraising party at the Blue Dog bar on Saint-Laurent Blvd. when he realized he might have a knack for helping people.  
That night, the bar split the take with Hughes' group to help finance the work of a downtown food bank and community centre called Share the Warmth. He remembers standing in an alley at 3 a.m., struggling to fit all of the clothing donations into a van when a life-changing thought hit him.
"I loved it, there was no feeling quite like it," says Hughes. "You're doing a small thing, but you're part of a larger movement that wants to help people in need."
Now in his second "tour of duty" at the Old Brewery Mission (OBM) — Quebec's largest homeless shelter — Hughes has worked at the J.W. McConnell Foundation, he's served as deputy minister of social development in New Brunswick and he edited the book Beyond Shelters: Solutions to Homelessness in Canada from the Front Lines.
When Hughes first served as the director general of OBM in 2004 (he is now the president and CEO), the goal was to manage homelessness. To give people a dry place to sleep and a warm plate of food so they wouldn't have to spend the night outside.
But he has been part of a movement that is shifting the approach from managing extreme poverty to providing permanent solutions.
"We were only beginning to look at housing the homeless in their own apartments back in 2004," he says. "Now, under the leadership of my predecessor Matthew Pierce, most of the people we work with are in their own form of housing. Whether that's social housing or private housing, we support over 300 people who would have otherwise been on the streets." Every homeless person who comes to OBM meets with a counsellor and the ultimate goal is to find permanent housing for that person.
"Ninety-three percent of the people we house stay housed," says Hughes. "It doesn't mean the fight is over. We still have clients that come to our emergency shelter and they need help, they struggle with mental illness, with addiction, they need customized services that we're trying to offer them.
"But the thing I would hope people out there realize is that working with the homeless, it's a place and a profession of hope. That's what we offer."
This is an excerpt from a longer article published in the McGill News.