Swords, cross-dressing, a ghost and a turtle – don't miss this comedy in three acts, presented by the Faculty of Law's student theatre group, Actus Reus.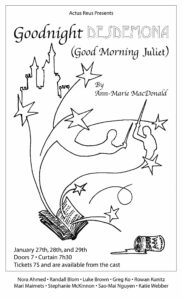 The players in Actus Reus have returned to comedy with Goodnight Desdemona (Good Morning Juliet) – the tale of a young English literature professor from Queen's University, who goes on a subconscious journey of self-discovery.
"It's Canadian and it's a bit of a farce on academia. It's also really funny. There are swords, there's a ghost, there's cross-dressing, and there's a turtle," said Joyce Tam, a law student with Actus Reus, the Faculty of Law's student theatre troupe.
Written by Canada's own Ann-Marie MacDonald, the play won the Governor General's Award for Drama, the Chalmers Award for Outstanding Play and the Canadian Authors' Association Award for Drama.
Tam said this year's production represents a shift away from the troupe's situational dramas of recent years. But she said the benefits to participating in student theatre remain the same, regardless of the production.
"It's a great showcase for the many different talents we have at the Faculty – we have people helping choreograph, playing instruments, acting, designing sound, painting sets, you name it," she said. "It also gives you a chance to get to know people in the faculty that you might not otherwise and to get to know them in a way you might not otherwise. It adds to our sense of community."
Student theatre at the Faculty of Law dates back more than 50 years, with the McGill Red and White Revue's production of My Fur Lady in 1957 and 1958 – which gave 402 performances at 82 venues across the country.
Ann-Marie MacDonald's Goodnight Desdemona (Good Morning Juliet)
Jan. 27 to Jan. 29, 2010 – Doors at 7 p.m., Curtain at 7:30 p.m.
Maxwell Cohen Moot Court
McGill Faculty of Law
3644 Peel Street, Montreal QC
$7 at the door
Cast: Nora Ahmed • Randall Blom • Luke Brown • Greg Ko • Rowan Kunitz Mari Maimets • Stephanie McKinnon • Sao-Mai Nguyen • Katie Webber