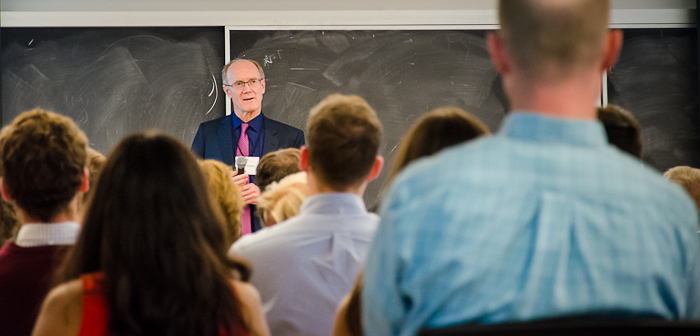 Le jeudi 20 septembre 2018, la Faculté a eu le grand plaisir d'accueillir plus de trente juges et protonotaires de la Cour fédérale du Canada, dont l'actuel juge en chef Paul Crampton et l'ancien juge en chef Allan Lutfy. Les magistrats se sont mêlés à un groupe d'étudiants et étudiantes au BCL/LLB à l'occasion de cette rencontre intime et cordiale.
Le vice-doyen aux études supérieures Richard Gold a chaleureusement accueilli les invités et invitées au nom de la Faculté, avant de céder la parole au juge en chef Paul Crampton. Ce dernier a offert une courte présentation sur la vaste juridiction de la Cour fédérale et donné un aperçu des priorités stratégiques de la Cour pour les années à venir, axées sur les questions d'accès à la justice et de modernisation de la Cour.
Justice George R. Locke (BCL'91, LLB'91) then provided an overview of the Federal Court's clerkship program. He stressed the impressive number of McGill graduates who obtain Federal Court clerkships year after year, in large part thanks to the bijural and bilingual nature of McGill's integrated program. He also explained how clerks have the opportunity to knit close relationships with the judges they work for, and often make friendships inside their cohorts that can last entire careers.
The Faculty was also pleased to welcome back two of its alumni: Justice Patrick K. Gleeson (LLM'06) and Justice Sean J. Harrington (BCL'68) were among the distinguished visitors.
After the speeches, the Faculty organizer of the event, Me Cristina Toteda, invited attendees to a reception in the foyer of Old Chancellor Day Hall, where students had the opportunity to learn more about the Federal Court and to mingle with the judges.
The event was a great opportunity for McGill Law to continue solidifying its ties with the Federal Court, which the Faculty looks forward to welcoming again for a live judicial review hearing at the end of October.

Photos: Lysanne Larose