Students from McGill's Faculty of Law have joined efforts to raise funds for earthquake victims in Haiti
Graphic reports of suffering, chaos and ruin in days following the massive 7.0 magnitude earthquake have left many onlookers with a feeling of hopelessness. But, despite the daunting nature of both rescue efforts and the subsequent rebuilding of Haiti, McGillians have mobilized to do their part in helping relief efforts.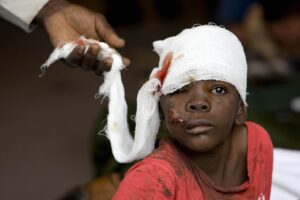 The Law Students Association and the Law Faculty's Human Rights Working Group rallied to collect donations at the end of classes, and set up a "toonie trail" in the Atrium of Chancellor Day Hall – a long line of adhesive tape to fill with $2 coins to donated to Oxfam and Médecins sans frontières.
Alexandre Shee, the president of the LSA, said that more than 200 students and Faculty members participated. "We hope this initiative can provide concrete help, as well as a demontration of law students' sustained commitment and solidarity with the people of Haiti," said Shee. "Every effort counts, and I hope that others will find ways of helping."
Overall, the McGill community has responded to fundraising efforts for the victims of the January 12 earthquake by opening their hearts and their wallets. Health Science and Law students banded together to host their second "Osler Hour" on Feb. 2, with a $10 minimum donation at the door to raise funds for disaster relief in Haiti.
Last week, the Arts Undergraduate Society, presented a cheque for $19,673.29 to Oxfam Québec to go toward relief efforts in Haiti – well beyond the $6000 goal they initially set, thanks to donations from students from the Faculties of Arts, Law, Education and Science, as well as the Caribbean Student Society, Oxfam McGill, and the Spanish and Latin American Student Association.
New initiatives are popping up all over campus. The Education Undergraduate Society has combined forces with the Education Graduate Student Society to spearhead a winter clothing drive for Haitian refugees expected to arrive in Montreal in the coming days, weeks and months. People are encouraged to drop-off used winter clothes in the lobby of the Education building at 3700 McTavish.
McGill Security Services agents have begun criss-crossing both the downtown and Mac campuses with red buckets collecting for the Red Cross, in coordination with student groups who have agreed to join from time to time in a gesture of solidarity.
A pair of benefit concerts on Jan. 30 and 31 were also organized by Marion Butler, eCommunications Associate Editor at Development and Alumni Relations, in conjunction with Health Partners International Canada (HPIC) and the Salvation Army.
"None of us can see the shocking images or read the disturbing accounts of the utter devastation that has been visited on Haiti without feeling overwhelmed by the extent of human suffering wrought by this week's catastrophic earthquake," said Principal Heather Munroe-Blum in a statement to the McGill community.
Individuals looking to make a donation can also contact the Canadian Red Cross.