"Green cake celebration" in honour of the late Dean Maxwell Cohen will also mark the launch of a graduate seminar.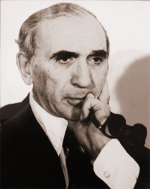 On the day that would have been Maxwell Cohen's 100th birthday, McGill's Faculty of Law will host a special celebration in honour of the late Dean of Law whose tenure was pivotal in establishing McGill at the forefront of legal education.
March 17 will also mark the launch of the Dean Maxwell and Isle Cohen Doctoral Seminar in International Law, created through the generous contributions of JoAnne Sulzenko (Dean Maxwell and Isle Cohen's daughter), alumni and friends, as well as from support of the Faculty of Law.
The seminar is intended to create a forum for the very best graduate students in international law at McGill and elsewhere, who will come to the summer program to share ideas and present their research. Participants of this year's inaugural seminar will be announced at the celebration on March 17 – and the Faculty will even serve green cake, just like Dean Cohen used to do, in the spirit of St-Patrick's Day.
"The seminar will be, without question, a fitting tribute to Dean Maxwell and Isle Cohen, whose lifetime commitment to legal education and international law shaped the Faculty in so many ways," said Professor Daniel Jutras, the Interim Dean of Law.
Maxwell Cohen was Dean at the Faculty from 1964 to 1969, and a pioneer of the National Program created in 1968. The Maxwell Cohen Moot Court at the Faculty of Law is also named in his honour.
The special celebration of Dean Maxwell Cohen will be held on Wednesday, March 17 in Old Chancellor Day Hall. For those interested in attending, please RSVP at 514-398-1435 or email Maria.Marcheschi@mcgill.ca.