From track suits to varsity jackets – the LSA expands its McGill Law merchandise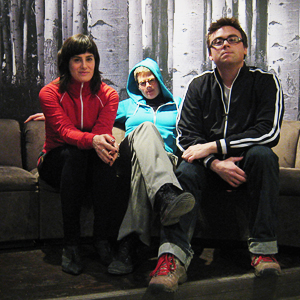 From two-piece track suits to tuques to vintage varsity jackets – the Law Students' Association isn't just selling sweatshirts any more.
The LSA has introduced a new sportswear catalogue with a slew of diverse items embroidered with "McGill Law / Droit" logo, in response to swelling demand for McGill Law-branded gear.
"People wanted more than just sweatshirts," said Marianne Knai, the Vice-President of Athletics for the LSA, and the driving force behind expanding the catalogue's latest offerings. "I would guess that 90 per cent of current law students have at least one McGill Law sweatshirt, and most people have multiple."
New items include t-shirts, zip-up hoodies, hats, tuques, baseball shirts, fleece jackets – and a two-piece track suit Knai describes as "slightly vintage looking, and slightly not," to appeal to the broadest possible audience.
As Vice-President of Administration for the LSA, Pascal Archambault Bouffard attributes the popularity to the feeling of pride students have in the Faculty of Law. "I have a sweatshirt and I proudly wear it. These clothes enhance people's sense of community and belonging."
Knai added that sense of belonging isn't limited to current students. "We get orders from alumni, and we also give out sweatshirts to visiting lawyers, judges, and speakers," she said.
To appeal to alumni, the LSA is also planning to sell vintage-style varsity jackets with leather sleeves emblazoned with the buyer's name and graduating year on an embroidered patch. Knai said the varsity jacket will only be available to alumni and graduating students. "It's a specialty item, so you need to have your degree to own one," she said.
The LSA will order its first batch of new merchandise on March 1st, with an additional batch on April 1st. While the cost of each new item varies, Knai said everything is inexpensive.
"The track suit we ordered is $75 for the whole thing, which is normally the price for the jacket alone," she said. "We wanted it to be accessible to everyone – cheap price, good quality, and not too sporty. Most of it is unisex too."
Knai said the LSA will turn a marginal profit on the new items – between $0.70 and $3 per item, with any proceeds going toward LSA initiatives. Pascal Archambault Bouffard added that the "classic" McGill Law sweatshirts will continue to be sold at cost. "They're not really about making money," he said. "They're more about community."
―By Laurel Baker
To see the catalogue and order form, please contact Marianne Knai