New donors help to keep Campaign McGill momentum going
The Faculty of Law has raised more than $22-million since the launch of Campaign McGill: Making History – the university's largest fundraising campaign – in October 2007.
Thanks to the support of new donors – most of whom are alumni and friends – the Law Faculty is closing in on its $35,130,000 goal. The Faculty is grateful for the continued support it has received. New donors play an important part – they inspire us to keep the momentum of Campaign McGill going.
Here are just a few recent donors who exemplify the generous spirit of so many of our graduates. Together, they share a common desire to ensure the Faculty retains its advantage as a leader in innovative legal research and education. Thank you for your generosity and commitment.
Disability and the law: Justice James K-Hugessen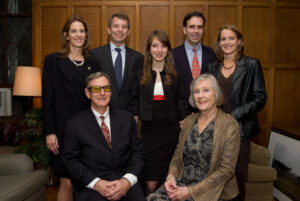 The benefactors' wall next to the Nahum Gelber Law Library (Photo: Isabelle Lemelin).James K-Hugessen, BCL'57, has donated $550,000 to stimulate research and study in the important area of disability and the law. With the establishment of the Justice James K-Hugessen Fellowship for the Study of Disabilities and the Law, Justice Hugessen will advance scholarship in this emerging field, by supporting graduate and undergraduate students, and teaching and research. A portion of the fund will also be used to help students with disabilities at McGill receive the assistance they need to succeed.
"Through his exceptional leadership, Justice Hugessen has heightened sensitivity to problems associated with discrimination, disability and the law," said Professor Daniel Jutras, Interim Dean of Law. "Through his generosity, he will stimulate work in this area as a matter of public policy and social justice."
The Hon. James K-Hugessen was called to the Bar of Quebec in 1958, and practised law until 1972, when he was appointed justice of the Superior Court of Quebec. In 1983, he became a judge of the Federal Court of Appeal. After becoming visually-impaired at the peak of his career, Hugessen served as Chair of the nation-wide Task Force on Access to Information for Print-Disabled Canadians. He retired from the Federal Court of Appeal in July 2008.
The Faculty applauds his efforts to promote scholarship in the area of disability and the law, and is profoundly grateful for his support.
Innovative teaching in corporate law: Andrea and Stephen Halperin

Stephen Halperin, BCL'75, LLB'78, has made a $200,000 gift to stimulate innovative teaching initiatives in two important areas to the Faculty: corporate and business law; and McGill's dual-degree program in Law and Social Work.
The Stephen Halperin Corporate Law Teaching Fund will help to expand the number of advanced-level courses in international business law, securities law, corporate social responsibility, finance and accounting, and corporate law mooting.
The Andrea and Stephen Halperin Law-Social Work Program Support Fund will support the program through teaching and research ventures for law and social work students, specifically in areas such as participatory justice, collaborative justice, and mediation to families and children.
Stephen Halperin is a partner with Goodmans in Toronto, and a member of the Faculty's Advisory Board. Andrea Halperin is a registered Toronto-based marriage and family therapist.
Summer program in human rights: Senator Leo Kolber
Students with a passion for social justice will have the opportunity to travel to Israel this summer for the McGill-Hebrew University Summer Program in Human Rights, made possible thanks to a $100,000 donation from The Hon. E. Leo Kolber, OC, BA'49, BCL'52.
The intensive three-week, five-course program will be jointly offered by McGill's Centre for Human Rights and Legal Pluralism and Hebrew University's Minerva Centre for Human Rights. The program will alternate between Montreal and Jerusalem, with the first session to take place in Jerusalem this year. Professors from both institutions will take part in the instruction of the program.
Leo Kolber was called to the Bar of Quebec in 1952. He founded the Cadillac-Fairview Corporation, served as longtime President of CEMP Investments and as the chief fundraiser for the Liberal Party of Canada. In 1983, Kolber was appointed to the Senate of Canada, and served as Chairman of the Senate standing committee on banking, trade and commerce. He retired shortly before his 75th birthday in 2004 – then, in 2005, was appointed Chair of the Advisory Council on National Security.
Committed to student life and learning: Debra and Barry Campbell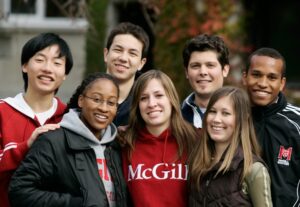 Hebrew University's Frank Sinatra International Student Centre on its Campus Mount Scopus.For the Campbells, legal education extends well beyond the classroom. Barry Campbell, BA'71, LLB'75, BCL'76, and Debra Campbell, LLB'77, BCL'78, have invested their passion for philanthropy at McGill by helping students make the most of their legal education.
Created through a $50,000 donation, and matched by funds from the McConnell Foundation, the Barry & Debra Campbell Fund will support new initiatives designed to promote the quality of student life and learning at the Law Faculty, with improved student advising to ensure students become better integrated at the Faculty, both academically and socially. The fund will be used this year to build mentorship programs and academic advising workshops.
Barry Campbell heads Campbell Strategies in Toronto and is also active with the Faculty of Law's Advisory Board. Debra Grobstein Campbell works as a consultant for non-profit organizations, and provides philanthropic advisory services to private foundations.
Le droit international privé : Le Professeur Jean Gabriel Castel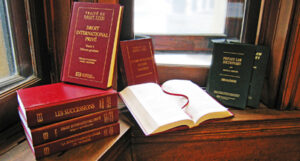 Jean Gabriel Castel, OC, professeur émérite d'Osgoode Hall à l'Université de York, vient de donner 50 000 $ pour créer le Fonds Jean Gabriel Castel en droit international privé. Le Fonds servira à promouvoir l'excellence en matière de droit international privé en soutenant des activités telles que des conférences et des colloques, ainsi que la recherche étudiante tant au premier cycle qu'aux cycles supérieurs.
Autorité canadienne en matière de droit international privé, Jean Gabriel Castel est un ancien membre du corps professoral de la Faculté de droit de McGill. C'est d'ailleurs grâce à ses bons offices que la Bibliothèque de droit de McGill a pu acquérir une collection unique de documents juridiques de l'Ancien Régime français, qui est devenue la Collection Wainwright. Il est également l'auteur de Canadian Conflict of Laws, un ouvrage en trois volumes considéré comme l'ouvrage de référence au Canada en matière de droit international privé.
―Par Lysanne Larose et Melissa Poueymirou
The Faculty of Law is grateful for these contributions to Campaign McGill: History in the Making. Thanks to new donors and old alike, including more than 70,000 donors around the world, Campaign McGill has surpassed the $500-million mark.