Reducing Genocide to Law
Payam Akhavan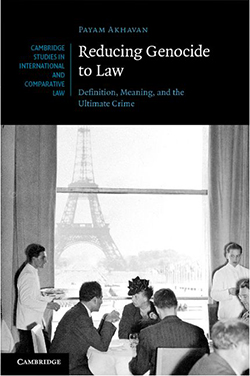 With endorsements from legal heavyweights such as Martha Minow, dean of Harvard Law School, Luis Moreno Ocampo, prosecutor of the International Criminal Court and Richard Goldstone, member of the Constitutional Court of South Africa, professor Payam Akhavan's new book on genocide will launch with a bang on March 28.
Entitled "Reducing Genocide to Law" and published by Cambridge University Press, the book takes up a series of challenging questions about the nature of genocide – including whether genocide should be considered the ultimate crime against humanity – and is billed as putting forth an argument that could raise questions that "border on the international law equivalent of blasphemy."
Akhavan, who teaches public international law at McGill, is writing from a position of considerable expertise on the subject: he was the first legal advisor to the Prosecutor's Office of the International  Criminal Tribunals for Former Yugoslavia and Rwanda and has advised the UN on issues of transitional justice.
As Moreno Ocampo comments in his evaluation of the book, Akhavan's treatment of the subject matter "provokes a profound re-thinking of efforts to transform global aspirations into a reality."
The book launch will take place at the Faculty of Law from 5:30 – 7 pm on Wednesday, March 28: http://www.mcgill.ca/channels/events/item/?item_id=214762
Le droit civil et ses codes: parcours à travers les Amériques
Jimena Andino Dorato, Jean-Frédérick Ménard et Lionel Smith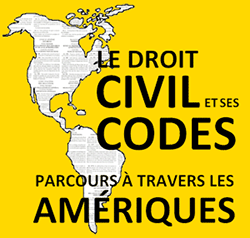 Avec la publication de cet ouvrage, les neufs juristes conviés par le centre de recherche en droit privé et comparé du Québec (aujourd'hui renommé le Centre Paul-André Crépeau en droit privé et comparé) de l'Université McGill à parcourir le droit civil à travers les Amériques et leurs codes en dressent un portrait pluriel. Cela dit, comme le relève Benoît Moore dans le rapport de synthèse qui clôt cet ouvrage collectif dans lequel il se penche sur l'unicité, la centralité et la pérennité des "codes d'Amérique", des thèmes récurrents traversent les textes des auteurs, indépendamment de leur origine nationale.
Ainsi, on observe l'évolution du rôle normatif du Code civil en Argentine avec Julio César Rivera qui s'attarde notamment à ses interactions avec le common law et la lex mercatoria. On constate aussi, tant avec Olivier Moréteau, qui réfléchit à la place du Code civil en Louisiane qu'avec Jimena Andino Dorate, Graciela Jasa-Silveira et Nelcy Lopez Cuellar qui abordent le dialogue des codes civils avec les normes constitutionnelles et internationales en Argentine , au Mexique et en Colombie, que la place du code civil dans l'univers juridique a beaucoup changé depuis la première vague de codification au 19ème siècle. De même, l'exposé de José Antônio Peres Gediel sur la modernisation du droit des personnes physiques en réponse aux innovations médicales et scientifiques et dans la foulée de l'adoption par le Brésil d'un nouveau code civil rejoint à la fois le propos sur les défis associés à la réforme et à la recodification du droit privé que livre Luis Muniz-Argüelles à partir de Puerto Rico et le point de vue québécois de Sophie Morin sur l'avenir du Code civil du Québec.
Tel que l'évoquent en ouverte Jimena Andino Dorato, Jean-Frédérick Ménard et Lionel Smith, cet ouvrage pose un regard renouvelé sur le droit civil tel qu'il s'est développé sur le continent américain et constitue une excellente introduction à son étude comparée.