On the evening of Thursday, December 5, 2013, dozens of people from the Faculty of Law community, along with family, friends and staff from other McGill faculties, gathered to bid adieu to Marie-Hélène Di Lauro, the Faculty's long-time Human Resources Advisor and Faculty Administrator.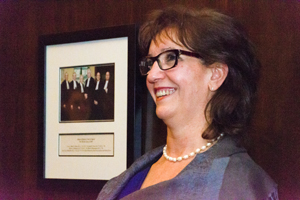 Marie-Hélène was all smiles at the reception held in her honour.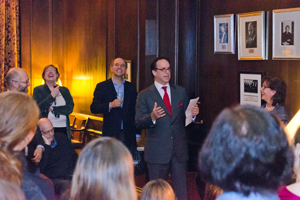 The Dean's remarks, celebrating MH's career and her many contributions to the Faculty, was in turns moving and funny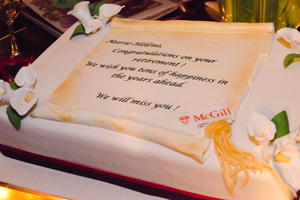 A lovely red velvet cake, decorated with calla lilies and a plaque that read: "Marie-Hélène, Congratulations on your retirement! We wish you tons of happiness in the years ahead. We will miss you!"
The room was crowded with well-wishers!
"M.H." will retire on December 31, after a total of 38 years at McGill University. Over the past 32 of these years, she personally facilitated every hire at the Faculty of Law, spanning the eras of seven different Deans. Small wonder, then, that so many of her current and former colleagues attended the Dean's reception in her honour, held in the Common Room.
"It was an opportunity for me to highlight Marie-Hélène's extraordinary contribution to the life of the Faculty," said the current Dean, Daniel Jutras. "Many of you have worked closely with her over an extended period, and know how much dedication, experience, wisdom and energy she has brought to her work."
In his remarks, Jutras highlighted her knowledge, loyalty and absolute discretion, as well as her seemingly magical ability to manage successive, sometimes extreme budget cuts. "Marie-Hélène is not only seen as a leader on the wider University campus," he said, "but also as a guide within the Faculty."
Former Dean Rod Macdonald gave a moving testimonial of Marie- Hélène as "a pillar of the Faculty" and an "unstintingly loyal and unfailingly competent" Faculty Administrator.
Macdonald referred to her "willingness to move mountains to carry through a seemingly impossible job," a strength which has enabled Deans to undertake ambitious projects with the confidence that they would be pulled off, with "the utmost competence."
Looking back on her long career, Di Lauro recalled that when she started at the Faculty, she used an electric typewriter, a black rotary phone and a switchboard operator.
She has seen former students graduate, return and, in one instance, become Dean. Through it all, "I have always felt that I had one of the best positions at the Faculty and University," said Di Lauro, "with exceptional staff to help me through all the many challenges and hurdles that come with this position. I will leave behind many friends and colleagues, but I will take away fond memories of all my years at the Faculty. The future will certainly be very different—scary, but exciting. It's time to end this chapter and start a new one—the page is blank, the opportunities are endless."
First on her agenda, it seems, will be recommencing piano lessons, tackling home renovation projects, and lots of travel.
Everyone at the Faculty of Law wishes Marie-Hélène Di Lauro all the best for a happy retirement!
Text: Bridget Wayland. Photos: Lysanne Larose