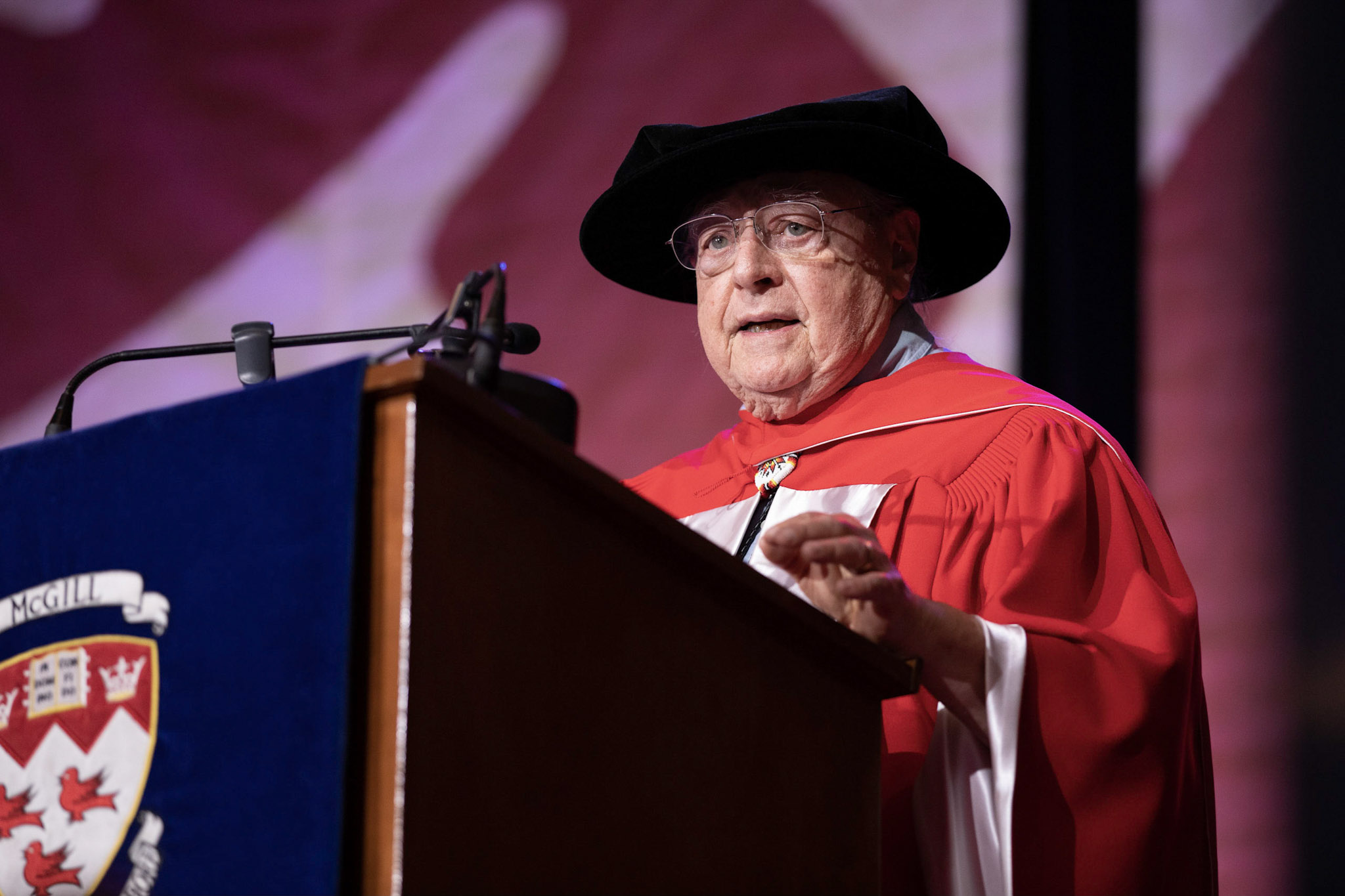 "I want to affirm to you that it is never pointless to think or envision alternatives to existing situations," James (Sa'ke'j) Youngblood Henderson confided to our newest cohort of graduates during his commencement address on 26 May. "It may seem improbable, impossible, or simply unrealistic, but the most compelling achievements are in moments of uncertainty, tensions, and change." 
This year's honorary doctorate recipient at the law convocation ceremony, Sa'Ke'j Henderson is an internationally recognized authority in Indigenous knowledge, heritage, jurisprudence, constitutional rights, and human rights.
He was born to the Bear Clan of the Chickasaw Nation, with heritage from the Cheyenne Nation. Inspired by his experience of poverty and by the achievements of the U.S. Black civil rights movement, he chose what was then an uncommon path for Indigenous people seeking to make change: pursuing law studies.
After graduating from Harvard Law School in 1974, he tackled issues of poverty and injustice affecting Indigenous communities, relying on treaty rights, constitutional law, and international law. He served as an adviser for the Mi'kmaw Nation and the Assembly of First Nations during Canada's constitutional process. He co-drafted the United Nations' Principles and Guidelines for the Protection of Indigenous Heritage and the UN Declaration on the Rights of Indigenous Peoples.
For many years, he was the research director of the Native Law Centre of Canada, and taught aboriginal law at the University of Saskatchewan's College of Law. He is now a visiting instructor in Mi'kmaw studies at Cape Breton University.
"I want to affirm to you to seek justice, and dare to seek justice, because seeking justice I can say eventually prevails over oppression; hope, over experience; prophecy, over habit; creativity, over impossibilities; kindness, over impersonal; and empathetic love, over everything else," Youngblood Henderson said to the graduating class.
"Change is always incremental," he added. "You start by doing what's necessary, then slowly start doing what's possible, and, in due course, you are doing the art of the impossible, all the same time not focusing on it."
"In a life of law, you will have hesitancies, setbacks and triumphs," he concluded, "but a life of law is a high responsibility, and an amazing journey into a future which we all hope will be better."
Watch Sa'Ke'j Henderson's full commencement address: