Justice Abella to deliver McGill Law Journal Lecture: "International Law and Human Rights: The Power and the Pity"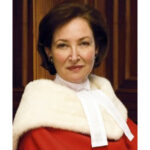 From her birth in a Displaced Persons Camp, to a Supreme Court judge – the Honourable Madam Justice Rosalie Siberman Abella has had a remarkable life. On Jan. 29, she will share some of her insights with the public when she delivers the McGill Law Journal Annual Lecture.
Presented by the student-run, peer-reviewed McGill Law Journal, the lecture series has a reputation for packing the Faculty of Law's Moot Court with members of the legal community and public alike, drawn by high-profile speakers such as last year's John Ralston Saul, the noted Canadian philosopher.
Organizers say Justice Abella will be no exception. In addition to being a prominent figure of Canada's legal community, Abella comes with a particularly compelling personal story.
She was born on July 1, 1946, in a Displaced Persons Camp in Germany, and came to Canada as a refugee four years later.
In 1976, at age 29, Abella was appointed to the Ontario Family Court – becoming Canada's youngest judge, the first Jewish woman to be appointed to the bench, and the first pregnant judge. She went on to Ontario's Court of Appeal in 1992, and the Supreme Court of Canada in 2004.
Today, Justice Abella is considered one of Canada's foremost experts in human rights law. She has served as Chair of the Ontario Labour Relations Board, Ontario Law Reform Commission, Ontario Study into Access to Legal Services by the Disabled, and as a board member of the Ontario Human Rights Commission. She also coined the term and concept of "employment equity" in a report she produced as Chair of the Royal Commission on Equality in Employment.
She has received 27 honourary degrees, and taught at McGill's Faculty of Law as a Boulton visiting professor.
Jan. 26, 2010 – 6 p.m.
Maxwell Cohen Moot Court
McGill Faculty of Law
3644 Peel Street, Montreal QC
Information: lawjournal.mcgill.ca or journal.law@mcgill.ca
A reception, sponsored by Osler Hoskin & Harcourt LLP, will follow in the Atrium. The 2010 Annual Lecture also received support from Students' Society of McGill University and the McGill Office of the Dean of Students.