Justice Louise Otis has long worked at finding alternative ways to resolve court cases through mediation. With the McGill Executive Negotiation Retreat, she now aims to help leaders develop their own skills at resolving differences.
By Victoria Leenders-Cheng
Former Quebec Court of Appeal judge Louise Otis is the Senior Boulton Fellow at the Faculty of Law and also works as a mediator in civil and commercial law. Her most recent assignment: act as a conciliator in the long and well-publicized talks of the Air Canada labour dispute.
The negotiations were intense and the final session stretched well past midnight to 3 a.m., but on Friday, February 9, the airline and its largest union, the International Association of Machinists and Aerospace Workers (IAMAW), announced that they had reached a tentative deal. The IAMAW, which had initially resisted when Otis was named as conciliator, declared that she had been "instrumental" in securing the deal.
Now, Otis is hoping to share her expertise in mediation and arbitration with the legal community with the introduction of the Faculty's first executive education program, a three-day negotiation retreat, that will take place in June 2012.
Alternative modes of dispute resolution have been a cornerstone of Otis' career. From 1993 to 2009, during her tenure at the Court of Appeal, Otis worked on finding different ways to resolve the cases over which she was presiding through mediation. In 1997, she instituted a program – one of the first of its kind the world over – that offered citizens the opportunity to meet with a judge in a mediation session to resolve their disputes.
Eighteen months into the program, she said, "we had received hundreds of requests for voluntary mediation and about 80 percent of these cases had been resolved in this way."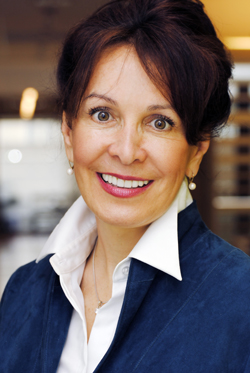 Since then, Otis has also conducted over 500 mediation sessions in commercial and civil law, the most recent being the intense, seven-week negotiation process for Air Canada to resolve labour disputes.
"There are few skills more important to executive leaders than negotiation skills," Otis said, explaining the impetus for creating such a program, "and when we ask business, legal and medical executives what percentage of their time is spent negotiating, the answers range from 40 to 80 percent."
"But," she added, "when we ask how many hours of formal training these executives have had in negotiation and game theory combined, the average generally ranges from four to eight hours."
Negotiation skills must encompass cultural understandings, neuroscience, ethics, game theory and processes of distributive and integrative bargaining. Indeed, Otis said, "an important negotiation can take on the complexity of three-dimensional chess."
In addition to Otis, Srinivasan Pillay, an assistant clinical professor of psychiatry at Harvard Medical School, will act as a program facilitator, along with respected mediators, lawyers and consultants Nina Meierding, Lee Jay Berman and Alexander Kuilman. They will lead participants in role-play simulations and case studies intended to introduce a range of creative and responsive negotiation styles (programme and details.)
Because of the demanding nature of the course, Otis is reaching out to high-level executives for the program's first offering this June.
"Executives and senior law partners have reached a level of success where they understand the value of constantly enhancing their skill set," she said, adding that the program design – a three-day, deep-immersion retreat – will allow for participants to bond with other experienced attorneys and is "optimal for shaping deeper understanding of the material."
Ideally, Otis concluded, the retreat will provide "an environment where these leaders can come together and openly share and learn from each other and from our faculty."
Find out more about McGill Executive Negotiation Retreat – 28-30 June 2012