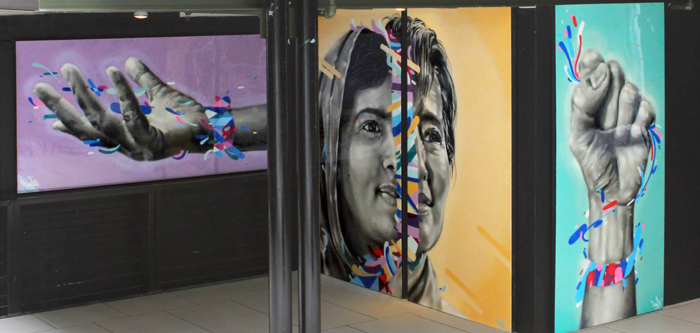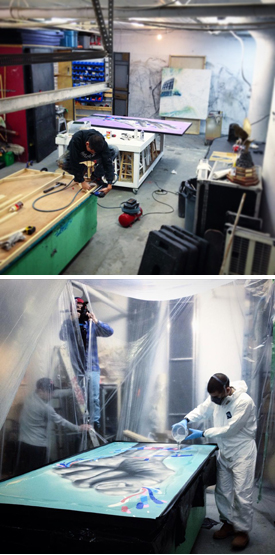 When Old Chancellor Day Hall closed for renovations, the walls of the building that give onto the Atrium were boarded up with drab drywall.
To bring some life back to the space, the Law Students' Association-funded Art Committee initiated a project to decorate the walls with art.
« Le mandat que nous a donné le doyen était d'enjoliver l'atrium », explique Nicholas Charest, étudiant en première année en 2014 qui a participé au comité.
Charest, who arrived at McGill after completing a liberal arts degree at Champlain College, created a website asking students for suggestions and contacted artists across the country, eventually choosing Montreal-Khmer-French artist Fonki to create four murals, each four feet by eight feet.
"I've been calling it the Corner of Conviction," Charest said of the area of the Atrium where the four murals were installed. The name is a reference to the theme of the works, which feature two outstretched hands as well as profile images of Pakistani human rights advocate Malala Yousafzai, and Burmese politician and activist Aung San Suu Kyi.
And while the reopening of Old Chancellor Day Hall means the Corner of Conviction will be displaced and a new home found for the works of art, Charest hopes that the project has demonstrated the appeal of bringing more colour to the Atrium.
"It would be fun to protect the space and do drip painting à la Jackson Pollock," he said, smiling. "Or have a wall where students can write on it, the way they do with the chalkboard that is already there. Art doesn't have to just be decorative. It can be very physical, very emotional."
Update: since the reopening of Old Chancellor Day Hall, the four paintings have been moved across the Atrium, along its west wall.