In November, the Faculty hosted two key events: The 2014 Raoul Wallenberg Lecture, and a panel to mark the 50th anniversary of the 1964 Loi sur la capacité juridique de la femme mariée.
The 2014 Raoul Wallenberg Lecture in Human Rights – November 24, 2014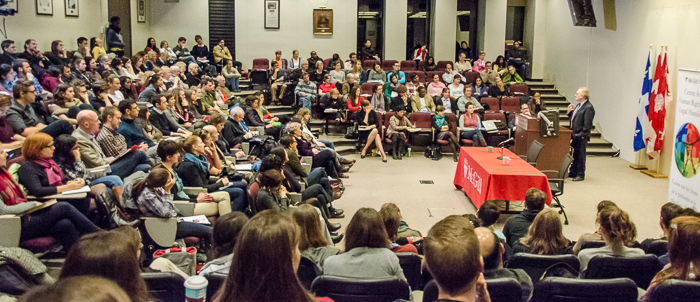 Always known for the passionate nature of his speeches, noted political activist and speaker Stephen Lewis did not mince his words in the 2014 Wallenberg Lecture, which he gave at the Faculty in November.
"The United Nations' response to the cholera epidemic in Haiti is a betrayal of the very values on which the UN is founded," Lewis stated, adding to laughter that he usually speaks extemporaneously but chose to put his thoughts to paper because his thoughts would likely get incendiary and he "wanted to avoid a lawsuit in case of rhetorical excess."
Lewis outlined the trajectory of the cholera epidemic in Haiti, from its arrival with a Nepalese contingent of peacekeeping troops in October 2010, to the toll it has taken on the country: "Since that outbreak," he said, "there have been a total of 706,862 cases and 8,584 deaths. Even in 2014, there are a thousand new cases per month."
He then went on to excoriate the UN for its refusal to take responsibility for its role in the epidemic and directed criticism at the US for suggesting that the UN could claim immunity in the case.
"The entire sordid saga of Haiti and cholera is a dreadful commentary on the United Nations," Lewis said. "You have the world's most exalted organization, whose mantra is human rights, democracy and rule of law. Every element of the mantra has been betrayed. Does the UN leadership not understand the massive loss of confidence that flows from these betrayals?"
Lewis went on to explain that his impassioned response arises in large part from his previous post as Canada's ambassador to the UN and his desire to defend the UN and its mission when it is acting legitimately. When it is not, Lewis said, "I shall not hold back."
Lewis concluded by thanking the audience for the opportunity to speak. The best, and sometimes only action one can take in situations like this, he said, is speak up. "It is necessary to take a stand, no matter how unpopular, no matter how awkward."
Listen to Lewis' presentation here: bcooltv.mcgill.ca/Viewer/?EventID=201411129672
Fifty Years of Marriage – November 4, 2014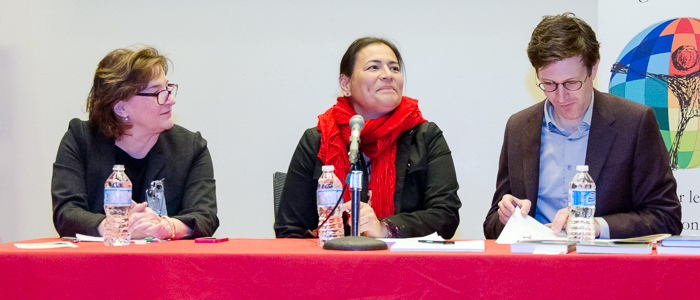 The Centre for Human Rights and Legal Pluralism's (CHRLP) busy November calendar also included a panel to mark the 50th anniversary of the 1964 Loi sur la capacité juridique de la femme mariée.
Law student and research assistant Cee Strauss organized the event with professor and CHRLP director Colleen Sheppard. A number of student groups — Aboriginal Law Students Association, Feminist Collective and OutLaw – also participated in the event.
"Prior to 1964, a woman upon marrying would lose her status as a legal adult and revert to the legal capacity associated with minors," Strauss explained in her introductory remarks.
"Upon taking her seat in the Assemblé in 1961, Maître Marie-Claire Kirkland lost no time in introducing the bill that would finally legislate what had already become the social reality. A revised Civil Code of Lower Canada (CCLC) read, 'A married woman has full legal capacity as to her civil rights, subject only to such restrictions as arise from her matrimonial regime.'"
Law grad, legal historian and former Privacy Commissioner Jennifer Stoddart, BCL'80, provided context for how views on marriage have shifted, explaining that historically, the civil law has been more egalitarian to women.
The Coutumes de Paris, which were in part the basis for the CCLC, stipulated that property and assets acquired prior to the marriage remained personal personal property, Stoddart explained. If the husband were to die first, property would be split so that half would go to the wife and the rest would be split among all the children equally, with no regard for primogeniture.
Professor and director of the Crépeau Centre for Private and Comparative Law Robert Leckey also reminded the audience of the complexity of the subject. "Being married continues to matter in very particular ways," he pointed out, adding that, since the legalization of same-sex marriage, it has been hard to do some of the work that remains.
"What happens after legal equality? It can be hard to demonstrate there are issues at all [once] there is a widespread assumption that equality has been attained… We have a very difficult time translating treatment with equal respect into differential treatment."
Native Women's Association of Canada president Michèle Audette began her remarks in innu and in French by thanking the Mohawk nation: "Merci à la nation Mohawk de nous accueillir sur leur territoire, maintenant partagé avec beaucoup de monde. Tant mieux."
She then went on to trace the history of Aboriginal law and the relationship between indigenous groups and the Department of Aboriginal Affairs.
The Indian Act governs property on reserves but does not deal with the division of property in the event of a divorce. "De 1860 jusqu'en 1985, toutes les femmes qui mariaient un non-Indien était automatiquement expulsées," she said. Amendments in 1985 addressed some of these issues but also created complicated rules governing First Nations status.
To close the event, Sheppard reminded the audience that this had been an opportunity to think about "the larger context of marriage and the economic and social consequences marriage has in people's lives." Her words echoed those of Robert Leckey, who said, "I leave us with caution as we tell stories about our past. We acknowledge we are shaping our present but we are shaping our past all the time."
Listen to the full panel here: bcooltv.mcgill.ca/ListRecordings.aspx?CourseID=10566
[ JUMP TO THE CURRENT EDITION OF FOCUS ONLINE ]