Court Orders: McGill's Supreme Court Clerks for 2013-2014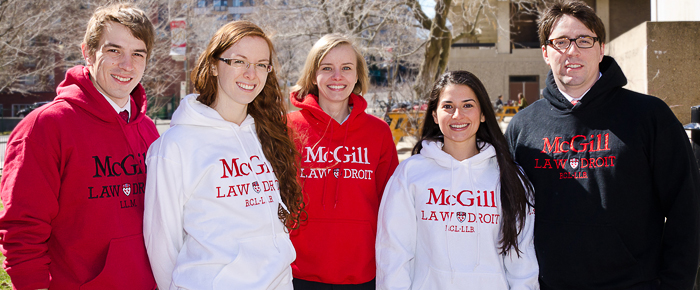 Our newest Supreme Court clerks are Guillaume Laganière, Ilana Ludwin, Katie Webber, Laura Scheim and Malcolm Lavoie
What does it take to clerk at Canada's top court? Just ask Malcolm Lavoie, Ilana Ludwin, Laura Scheim, Katie Webber (BCL/LLB candidates) and Guillaume Laganière (LLM candidate), five McGill law students who have secured Supreme Court clerkships for 2013.
By Bridget Wayland
We caught up with Ilana Ludwin as she was running out to perform with the McGill Choral Ensemble—an accomplished flutist, she also plays in the pit band for Gilbert & Sullivan musicals with the McGill Savoy. "I am absolutely thrilled," says Ludwin, who will be clerking for Justice Marshall Rothstein. "I can't wait. I'm looking forward to being immersed in the wide variety of legal subjects handled by the Supreme Court, and working with my judge and the other clerks."
Every year, each Supreme Court of Canada justice chooses three clerks among the country's top students, most in their penultimate year of law school. It's one of the most competitive avenues open to law students. So how did these five rise to the top? Like Ludwin, the musician who is also a Law Journal editor and clerks part-time at the Quebec Court of Appeal, "they're all exceptionally well rounded," says Assistant Professor Hoi Kong, who advises potential candidates on the process of applying to clerk at the Supreme Court.
Maintaining impeccable grades while juggling diverse interests and accomplishments proves more than a candidate's outstanding time-management skills, it may also help shape what they will do in law.  "I think there's a lot of creativity in law and your background contributes to the perspective you bring to law," says Kong.
A candidate can be invited to between one and nine interviews and then, if successful in securing a clerkship, he or she can expect a personal call from a judge.
On the day immediately following the interviews, Guillaume Laganière was entering the subway and almost missed the call from Chief Justice Beverley McLachlin, who gets to pick her three clerks first. One of the few graduate students to be selected in recent memory, Laganière will be submitting his thesis on private international law next January, then pursuing an LLM in commercial law on full scholarship at Cambridge University, before moving to Ottawa in July 2013. "I am really excited," says the Longueuil native. "I feel absolutely privileged to work with some of the best jurists in the country. I intend to make every day of my clerkship a unique occasion to learn."
Laura Scheim was also taken by surprise. "When Justice Moldaver called me," she recalls, "I was actually serving lunch at an event for the Filipino Women's legal clinic where I work."  Indeed, Scheim has been involved with PINAY [the Filipino Women's Association of Quebec] from the very beginning of her law degree at McGill. She has also worked for the McGill International Criminal Justice Clinic, participated in the McGill/Hebrew University of Jerusalem Summer Program in Human Rights, and worked as a summer student at the tax department at Osler, Hoskin & Harcourt. With such diverse experience, as well as a Master's degree in human rights and international law from the London School of Economics, Scheim is precisely the sort of bright young jurist that Supreme Court judges seek out to serve as their law clerks.
The Supreme Court of Canada answers pressing legal questions that can arise from the civil or common law systems and in either of the official languages. "McGill's trans-systemic, bilingual program gives students the ability to work in the civil or common law systems in either official language, and teaches them to think critically about complex legal issues," says Kong. "Plus, our students are incredibly bright and motivated."
Katie Webber, who will be clerking for Justice Morris J. Fish—"and his mystery successor, as he retires in 2013"—is a perfect example. She unites a passion for acting (Webber performed in The Mousetrap and several other Actus Reus productions) and rock climbing (founded the McGill Law Climbers) with media skills (produced and anchored the biweekly online newscast of Quid Novi, served as executive editor of the McGill Law Journal) and an interest in South Asia (extensive travel in India, legal research work with the South Asia Human Rights Documentation Centre, learning Hindi). Webber will be going on exchange to Hong Kong for her final semester. "I am very excited," she says, "but I'm also trying to pace myself excitement-wise as there is still a year and a half before it all begins!"
Malcolm Lavoie, who was selected by Justice Rosalie Abella, will conclude his part-time clerkship at the Quebec Court of Appeal when he graduates this month, then head back to his home province to article at the Alberta Court of Appeal for a year; "and then it's off to Ottawa!" This will be the next step in a very interesting journey for this Edmontonian, who has already distinguished himself by earning a Master's degree in Political Theory from the London School of Economics and winning the national swimming championships in freestyle events—twice—during his B.A. in Honours Economics at UBC.
Lavoie looks forward to interacting with the judges and taking a look at questions of national importance. "At the Court of Appeal, the main emphasis is on correcting errors, but the Supreme Court is concerned with clarifying the law itself, in some cases changing the law, and considering the theoretical issues that it raises," he observes. "Getting to consider, at that level, the broad directions of Canadian law? It's a great privilege to be a part of it."
As Professor Kong observes, "this is an extraordinary opportunity for recent graduates to see some of the most controversial cases in the legal system. But above all, I see it is an occasion for public service in a very important institution."
Photos by Lysanne Larose