Bien que la fin de la saison des concours de plaidoirie ait été quelque peu écourtée par la pandémie, nos étudiant.e.s ont néanmoins eu l'occasion de démontrer leurs talents lors des joutes suivantes, présentées ici en ordre alphabétique.
Concours Harold G. Fox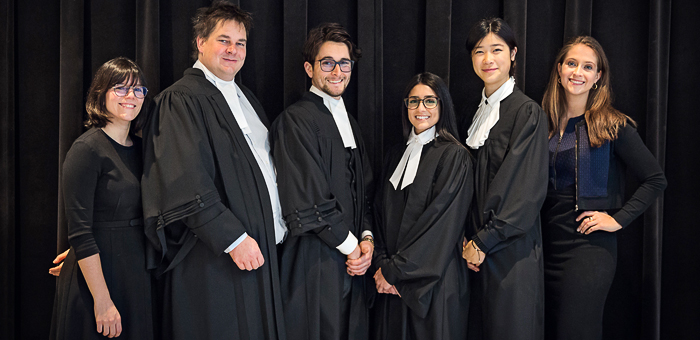 En février, l'équipe composée de Valmi Dufour-Lussier, Mitchel Fleming, Ava Liaghati et Qian Hui Sun a représenté McGill dans le cadre du Concours Harold G. Fox en propriété intellectuelle. Le tandem de Valmi Dufour-Lussier et Qian Hui Sun a terminé en 2e position, se méritant le prix Gordon F. Henderson pour meilleur mémoire (partie appelante). L'équipe a été habilement entraînée par Sofia Lopez Bancalari et Claudette van Zyl, BCL/LLB'16, de chez Norton.
Concours Laskin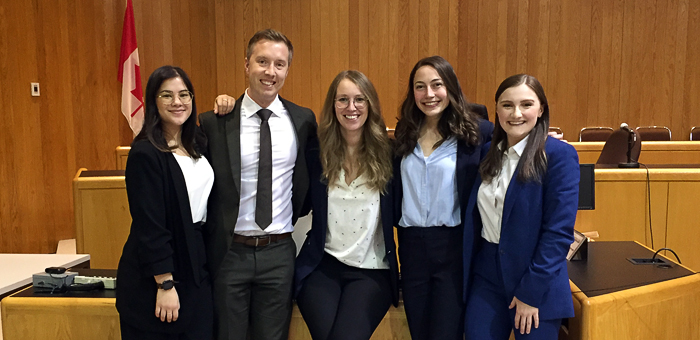 Le Laskin est un concours bilingue de plaidoirie en droit administratif et constitutionnel canadien, honorant la mémoire du juge Bora Laskin. Gabrielle Landry, Ryan Hicks, Alessa Dassios et Bhreagh Rossse sont distingué.e.s en s'emparant du prix de la meilleure équipe. L'équipe est aussi repartie avec les prix pour meilleurs mémoires (pour l'appelant et l'intimé), meilleure paire (Bhreagh Ross et Alessa Dassios) et troisième meilleure oratrice (Bhreagh Ross). Par ailleurs, Gabrielle Landry s'est classée 9e meilleure oratrice. L'équipe a profité des judicieux conseils de la doctorante Catherine Mathieu et de Marie-Pier Cloutier, BCL/LLB'13, de chez Woods, ainsi que du juge à la retraite l'honorable Clément Gascon, BCL'81.
Concours Mignault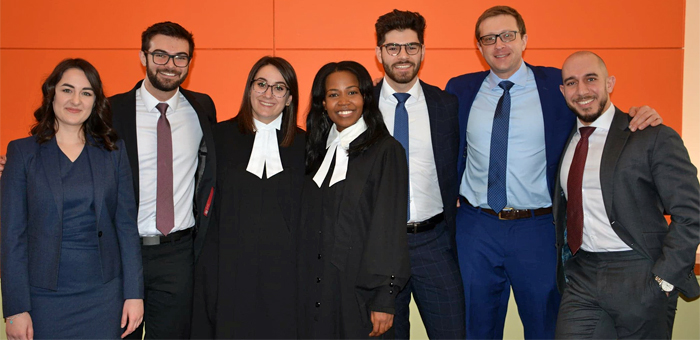 En février, l'équipe formée de Jasmin Ethier, Jenna La Ricca, Bianca Marcelin, Arvin Khodayari a participé au Concours Pierre-Basile-Mignault, lequel se tenait cette année à l'UQÀM. Les co-équipières Jenna La Ricca et Bianca Marcelin ont gagné le prix du tandem vainqueur de la joute finale, se méritant ainsi la Coupe Jean-Martineau. L'équipe a profité des précieux conseils de Camille Duguay, Michael Shortt, BCL/LLB'13, et Marc James Tacheji, BCL/LLB'13, de chez Fasken.
Coupe Guy-Guérin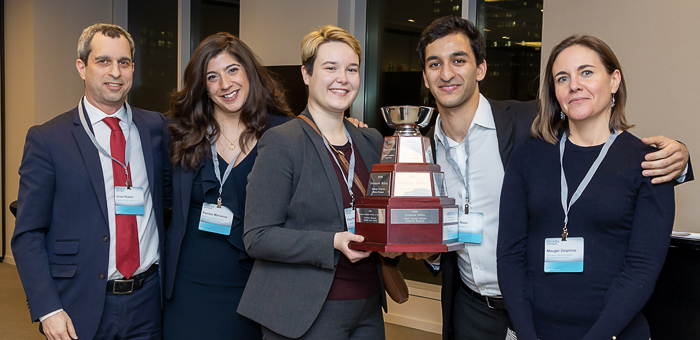 Selon leurs entraîneurs Robert Israel, BCL/LLB'06, Marianna Ferraro, BCL/LLB'07, et Delphine Mauger, BCL/LLB'08, le duo de Rebecca Schur et Nadir Khan ont livré une performance fort impressionnante lors de la Coupe Guy-Guérin en février, s'emparant du trophée et se qualifiant pour le concours national Sopinka.
Gale Cup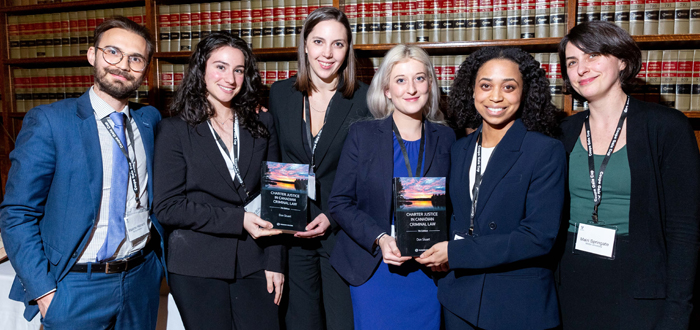 Students Nicole St-Pierre, Erica Trenson, Malaya Powers and Nicole Maylor, participated in the 47th edition of the Gale Cup; they were handed the prize for Best Anglophone Team Not in Finals by Justice Patrick Healy, BCL'81. They were expertly coached by Maxime Hébrard, BCL/LLB'11, and Mairi Springate, BCL/LLB'09, of Shadley Battista.
Jessup Moot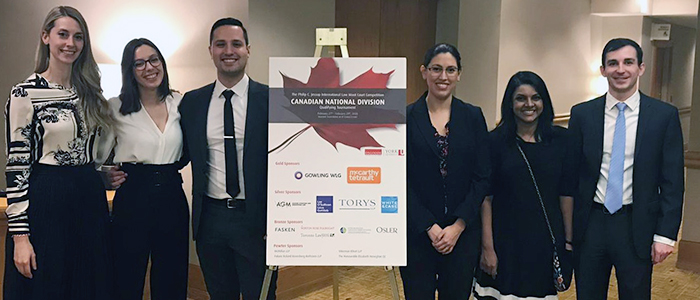 Tessa Martin, Bryan Salazar Roldan, Andrea Salguero, and Adam Rossiter represented the Faculty in the Canadian rounds of the Philip C. Jessup International Law Moot. Coached by Marianne Bastille-Parent from Dentons LLP and McGill O'Brien Fellow/DCL Candidate Vishakha Wijenayake, the team put in a strong performance, holding its own against some of the eventual finalist teams. The team expresses its gratitude to its coaches and to the graduate students and other moot alumni who judged the team's many practice rounds.
Julius Alexander Isaac Diversity Moot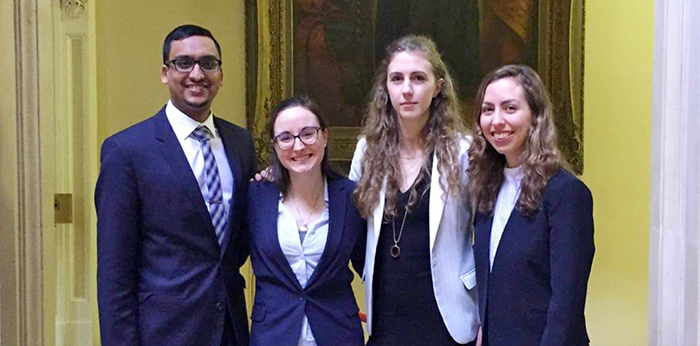 Named after the late Chief Justice of the Federal Court of Appeal, Julius Alexander Isaac, the first Black judge to sit on the Federal Court of Canada, this moot focuses on areas of law in which issues of equity and diversity arise. McGill was represented this year by Hamza Mohamadhossen, Nevada McEniry-Hatajilo, Samantha Backman, and Andrea Kowalski. As Samantha Backman noted, the moot provided the team "with a unique opportunity to work with highly motivated and impassioned peers as well as a dedicated mentor who coached us through the process." The team was coached by Mina Chamsi, BCL/LLB'12.
Kawaskimhon Moot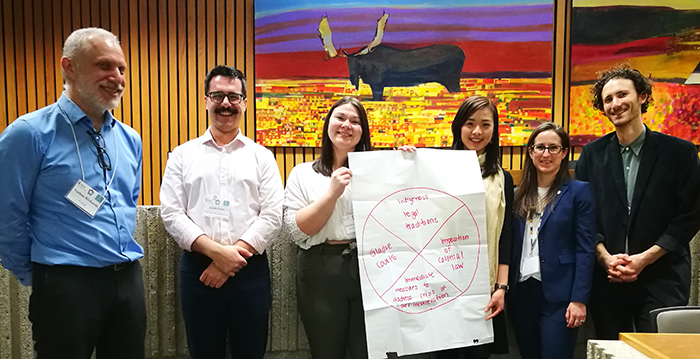 The 2020 Kawaskimhon Aboriginal Law Moot took place at the University of Manitoba's Faculty of Law in Winnipeg, on March 6-7. The participants were tasked to develop a Crown policy that will guide Manitoba's Crown prosecutors in the implementation of Gladue with a view to address the issue of over-representation of Indigenous people in the Canadian criminal justice system. Justin Forte and Breanne Lavallée-Heckert represented the Manitoba Metis Federation, while Lily Maya Wang and Adrian Levine represented the Inuit Tapiriit Kanatami organization. They were accompanied by coaches Nathan Richards, BCL&LLB'00, LLM'05, DCL'16, of Nathan Richards Legal, and Caroline Briand, BCL/LLB'07, of Cain Lamarre Casgrain Wells.
Vis Moot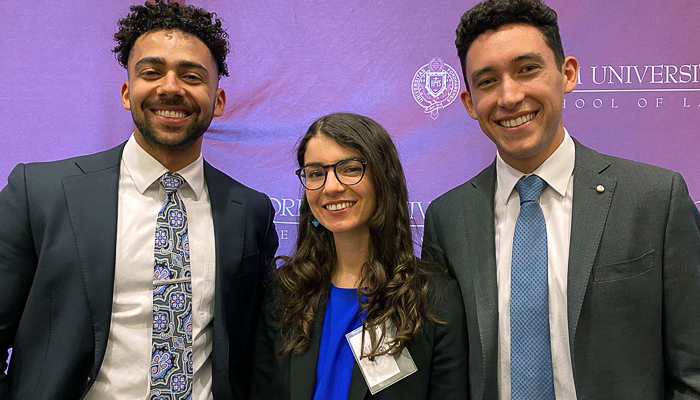 This year, the Annual Willem C. Vis International Commercial Arbitration Moot, which normally takes place in Vienna in March, moved the contest online due to the COVID-19 pandemic. The McGill team of Nicholas Hollard, Eleanor Dennis, and Joshua Blatt tied for 9th place overall during the Round of 16, and received an honourable mention for Best Memorandum for Respondent out of the 398 universities competing. Eleanor Dennis was the runner-up for the Martin Domke Award for Best Individual Oralist, placing her within the top 1% of pleaders worldwide. The team was coached by Martin Doe, BCL/LB'08, of the PCA, Professor Catherine Walsh, and Éric Bédard, BCL/LLB'10, of Woods.
Wilson Moot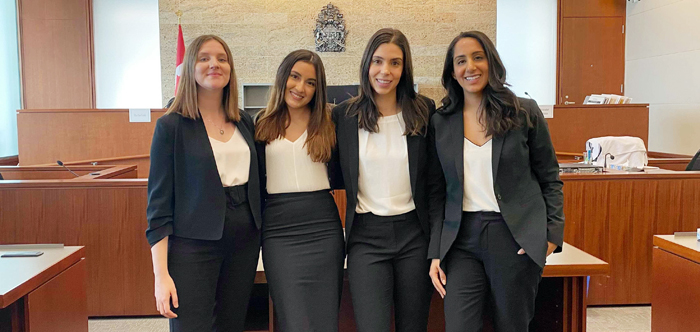 Taking place annually at the Federal Court in Toronto on February, the Wilson Moot explores legal issues concerning women and minorities. It commemorates Justice Bertha Wilson. This year, BCL/JD candidates Jodie Côté-Marshall, Sabrina Kholam, Brittni Tee, and Jenna Topan represented McGill, with Brittni Tee taking home the Peter W. Hogg award for top oralist. The team wishes to thank coach Kierstin Lundell-Smith, BCL/LLB'18.
Winkler Moot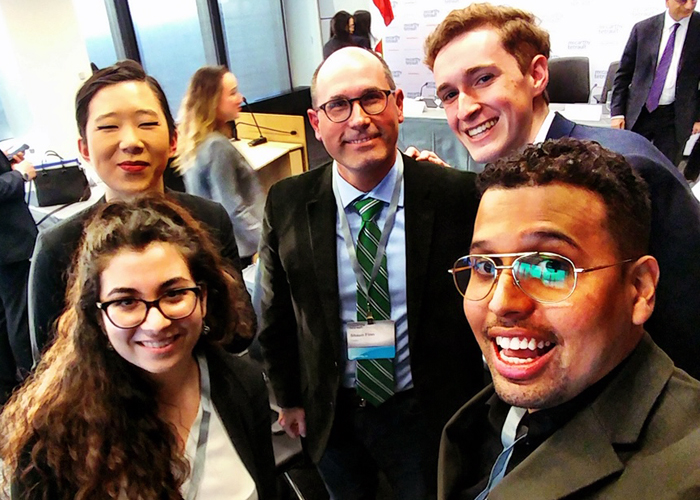 Students Alexandra Magazin, Flora Yu, Kevin Nicholls-Dempsey, and Leon Perez Pacheco represented McGill in this year's Warren K. Winkler class actions moot. The team won the award for best defence factum and finished a close second overall. The many jurists who were there to judge the moot noted the quality of the McGill team members, who had a clear command of the material and comported themselves with grace and composure, according to coach Shaun Finn, BCL/LLB'02, of BCF Avocats.
Si par inadvertance un résultat a été omis, prière d'écrire à ebulletin.law@mcgill.ca.