Reflecting back on his time as a McGill law student, Richard Bogoroch, BCL'78, LLB'79, feels a great sense of privilege and pride. "McGill played such an important role in my life, both personally and professionally," he says.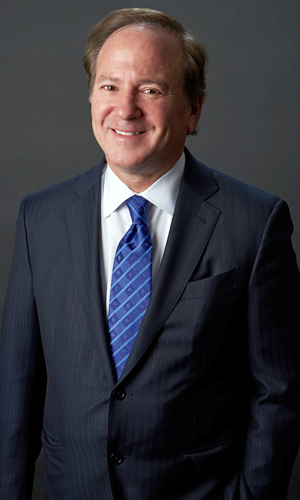 In particular, Bogoroch looks back fondly on the many outstanding professors he encountered, including Emeritus Professor Irwin Cotler, PC, OC, OQ, BCL'64, LLD'19. "His pursuit of justice and his commitment to human rights in Canada and throughout the world is a shining example to us all," he says. "In his class, we were taught that the biblical injunction of 'Justice, justice, shall you pursue' is not merely a statement of belief, but a spur to action."
The significance of a legal education
Now the managing partner of Bogoroch & Associates LLP in Toronto, Richard Bogoroch is conscious of the significance of a legal education in our social fabric. "Legal education is fundamental to democracy; our society's foundations are strengthened when we can provide access to a legal education to all who seek it", he notes. "Legal training provides wide-ranging intellectual curiosity and critical thinking beneficial not only to the practice of law, but many other disciplines, pursuits, and to society as a whole."
Recognizing the gift of his own legal education and in gratitude to the Faculty of Law, Richard has donated $100,000 and created the Richard M. Bogoroch and Bogoroch & Associates LLP Entrance Scholarship. Each year, this scholarship will support an outstanding student entering the BCL/JD program at the Faculty of Law.
"As a proud McGill Law graduate, this gift is my way of acknowledging the Faculty's importance in my professional career and demonstrating the tremendous appreciation I have for the excellent education I received," Bogoroch explains. "McGill Law is a special place with a well-deserved reputation for excellence. Many of the professors who taught me were superb, dedicated and inspiring. I am delighted that this gift will help a deserving individual enjoy the same opportunity I had."
Inspiring fellow alums
In addition to supporting future generations of McGill Law students, Bogoroch hopes that his gift will inspire other alumni to support their alma mater. "When I attended McGill, it was a unique and special gift to obtain a first-class legal education at such an affordable cost. This gift was made in recognition of that privilege," he says.
Bogoroch also notes that the uncertainty caused by the pandemic served as an additional motivating factor in his decision to give back. "We're now living through a time that none of us could have ever imagined," he says. "I think it is fair to say that governments at all levels may not be able to support education – including legal education – in the same fashion as they have in the past. If my fellow alumni are able to, I encourage them to contribute to the future of McGill Law. We all owe a debt to the Faculty of Law for providing us with a first-class legal education."
Interview: Sarah Huzarski.