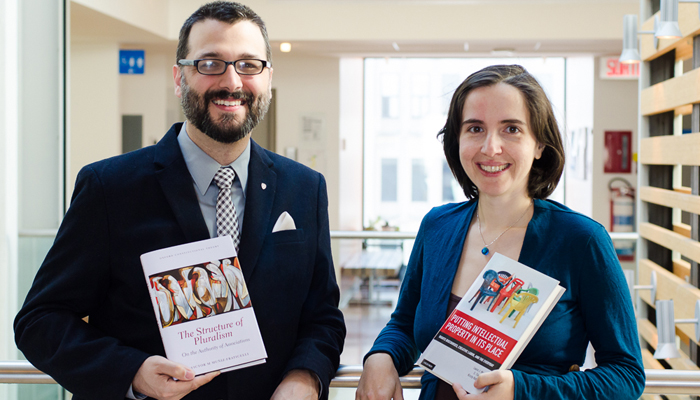 A pair of new books by two of our Profs: Putting Intellectual Property in its Place by Tina Piper; and The Structure of Pluralism by Victor Muñiz-Fraticelli
Professor Tina Piper's new book, Putting Intellectual Property in its Place: Rights Discourses, Creative Labor, and the Everyday, presents case studies of creative communities at work, from online knitting communities to the National Research Council. Throughout, Piper aims to define "the everyday life of IP law," in which people tend to ignore—or reimagine—the legal mechanisms of IP law through information gathered from friends, strangers, coworkers and the media. As such, Piper explores intellectual property law (IP) as a practice, rather than a statute.
Co-written with Laura J. Murray, a Professor of English and Cultural Studies at Queen's University, and Kirsty Robertson, a Professor of Contemporary Art and Museum Studies in the Department of Visual Arts at the University of Western Ontario, the book brings legal expertise into dialogue with other disciplinary and creative fields, with the intention of enabling sustained interdisciplinary collaborative research.
In The Structure of Pluralism, McGill Law and Political Science Professor Víctor Muñiz-Fraticelli presents a pluralistic approach to constitutional theory. Drawing on the intellectual tradition of British political pluralists as well as recent developments in legal philosophy and social ontology, he reconstructs pluralism as a distinct tradition in political and legal theory from the turn of the twentieth century to the modern day.
In his book, Muñiz-Fraticelli also distinguishes between pluralism and several of its oft-associated but distinctly different terms: multiculturalism, subsidiarity and associational democracy. Finally, he examines the radical claims made by political pluralism regarding the sources of political authority and the relationship between associations and the state.
Photos of the authors: Lysanne Larose.
[ JUMP TO THE CURRENT EDITION OF FOCUS ONLINE ]