Many of our grads (and one of our profs) argued before the Supreme Court of Canada (SCC) this March in the high-profile Kazemi case.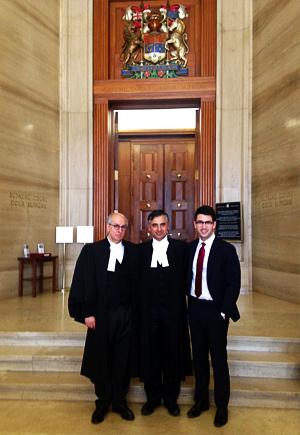 What are the odds that a dozen of our graduates would converge at the Supreme Court of Canada arguing for different intervenors in a single, high-profile case? On March 18, 2014, those odds were good indeed.
Among the 42 people listed by the SCC as counsel and agents for all the parties named in the case were the following 11 McGill grads, some of whom were classmates at the time.
Colin S. Baxter, BCL'90, LLB'90
Mathieu Bouchard, BCL'00, LLB'00
Audrey Boctor, BCL/LLB'05
Simon Chamberland, BCL/LLB'05
Kurt A. Johnson, BCL'91, LLB'91
Sally Gomery, BCL'90, LLB'90
David Grossman, BCL/LLB'05
Azim Hussain, BCL'00, LLB'00
Christopher A. Wayland, BCL'95, LLB'95
James A. Woods, BCL'73, LLB'74
Sarah Woods, BCL/LLB'03
Recent grad Nicholas Caivano (BCL/LLB'14), Babak Barin and Professor Payam Akhavan represented the Iran Human Rights Documentation Center in this case. The case was streamed live and the video is available on the SCC website.
Read more about the case "Supreme Court hears case of Canadian photojournalist tortured in Iran" (Toronto Star, March 18, 2014).
[ JUMP TO THE CURRENT EDITION OF FOCUS ONLINE ]