Professor Adelle Blackett seeks to establish a framework that emphasizes basic but fundamental notions such as equality, freedom of association, and the elimination of forced labour for domestic workers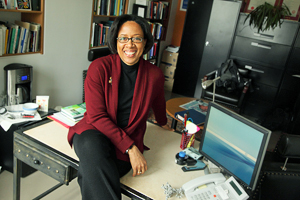 In the early 90s, during her law studies at McGill, Adelle Blackett was offered an internship with the International Labour Organization (ILO), a United Nations specialized agency dedicated to the promotion of globally recognized labour rights, where she focused on the plight of domestic workers. Both connections would stick. Today, Blackett teaches labour law at McGill, and is playing a crucial role in the ILO's implementation of international standards to protect domestic workers, a project more than 60 years in the making.
The ILO was created in 1919 under the auspices of the League of Nations, and though its head office is now in Geneva, it was actually housed at McGill during and a few years after World War II – one of the most transformative periods of the organization's history.
An important step was taken at the University in 1948, when a resolution calling for the setting of international standards on domestic work was drafted and adopted. Sadly, this turned out to be aspirational, and not much was done. But today there is a push to finally establish meaningful norms for the world's domestic workers by 2011.
So why the delay? One reason is a general tendency to not see domestic work as work. "The work takes place in the home. If the same work were unpaid but done for love, we would probably not think about it even in the category of labour law or employment law," said Blackett.
But a number of factors have brought the issue of domestic workers to the fore: the increased mobility of people and information, the rise in dual-income households, an aging demographic, and a trend toward privatization of care and in-home services.
When the ILO sought expert help in 2008, they knew just where to look. Blackett was brought on as a "technical advisor" and took a lead role in writing Decent Work for Domestic Workers, a report which surveys the state of laws and policies around the world and proposes directions for standard-setting.
Blackett is now set to participate in the International Labour Conference in June, which brings together governments, workers' representatives and employers' representatives from around the world, followed by a second International Labour Conference in the summer of 2011, where it is hoped that standards will finally be ready for adoption.
For Blackett, it is not only important to consider domestic work worthy of the protections offered to more traditional employment, but also to take into account the particular context of domestic workers. Often these workers migrate from abroad, leaving their own families behind, live in their place of employment, are duty-bound to those in their care, and have a proximate relationship with their employer.
"It's not a status, it's not who they are as people, it's not a caste; it's an occupation and should be valued and should be treated like any other form of work," said Blackett. "But the report also recognizes that the workplace itself is distinct."
It's not enough for the state to regulate, she says. There must be greater attention to the pluralist norms in the home-workplace that complicate power relations. There is also a need for technical support to countries that have significant domestic worker populations, so that the regulations can be both accepted and complied with.
But for Blackett, whose own mother immigrated to Canada as a domestic worker, what is needed above all is a framework that emphasizes basic but fundamental notions such as equality, freedom of association, and the elimination of forced labour.
"Decent work is not a terribly legal term," Blackett said, "but for domestic workers it captures a basic dignity interest and recognizes that the work they do is not only socially meaningful, it's absolutely essential for the proper functioning of the economy. And to have that recognized through decent working conditions across the board is crucial."
By Pascal Zamprelli