Professor Abdullahi Ahmed An-Na'im, a leading authority on the place of secularism in Islam and of human rights in cross-cultural perspectives, delivered the Faculty's 2012 John Peters Humphrey Lecture in Human Rights on October 11, entitled "The Ends and Means of Human Rights: From State-Centric to People-Centered."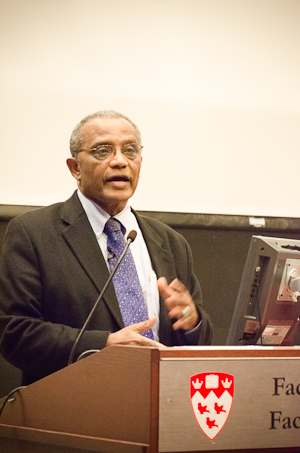 In a wide-ranging presentation, the scholar touched on the failure of international agencies to prevent human rights violations around the world, and the need for a more proactive approach, rooted in human agency.
Originally from Sudan, Dr. An-Na'im taught until 1985 at the University of Khartoum, where he was greatly influenced by the Islamic reform movement of Mahmoud Mohamed Taha. He then served as the Executive Director of Human Rights/Africa, prior to joining Emory Law School in Atlanta, Georgia, in 1995, where he is Charles Howard Candler Professor of Law and director of the Religion and Human Rights Program. Over the last decade, most of An-Na'im's scholarship has been devoted to two themes: the modernization of Shari'a and the cultural legitimization of human rights in Islamic societies.
In delivering this year's Humphrey Lecture, Professor An-Na'im wished to honour John Humphrey, who drafted the UN's Universal Declaration of Human Rights. At the same time, An-Na'im expressed strong reservations about the efficacy of the United Nations structure in protecting human rights at all.
"The UN human rights system made a difference. It raised issues that wouldn't have been raised, and we need that type of advocacy," he said, adding that we must also understand its limitations. "Aside from the rhetoric and politicization, we also see the hijacking of human rights discourse by forces with the ability to manipulate that discourse," he pointed out. In the end, "the system is not doing much to actually protect human rights, globally speaking. It has really failed the vast majority of the human population."
As an example, An-Na'im referred to the massacre in Darfur. "As people are being killed, and asking us to protect them, we are standing by the frontier saying 'we can't come in, because we must respect the sovereignty of Sudan.'" This, he said, highlights the limitations of our international law systems in delivering human rights justice. "We must pull our act together and deliver," he said, "or people will look for some other means of achieving justice." 
In elucidating the lecture's title, "The Ends and Means of Human Rights," An-Na'im stated that people are the ultimate ends of human rights, as well as the only means of achieving them. As for the subtitle, "From State-Centric to People-Centered," he remarked that "the system we have for international justice comes from the state; it is a state-centred system." In contrast, he said, a people-centred approach "empowers the agency of human beings to realize human rights for themselves."
It's not going to be easy, he said, to let people be the driving force behind human rights justice, nor is it easy to focus on prevention rather than remedy, or to break the colonial cycle of depending on externally imposed priorities, specifically in an African context.
But, An-Na'im maintains, "there are ways to transcend these conditions, and change is already happening." As an example, he pointed to an internal African human rights movement, in which women are protesting traditions of land ownership, and fighting to access their share of their inheritance. "We don't speak the language; we don't see what they are doing," he said, "but it is happening."
As an internationally recognized scholar of Islam and human rights from cross-cultural perspectives, Professor An-Na'im also addressed the recent widespread protest over the film, "Innocence of Muslims," from a human rights angle.
While categorically rejecting the violence that marked some of the protests, An-Na'im noted that human beings are entitled to protest and that, in fact, we should welcome it. "I see the protests over the film as integral to free speech, not a rejection of it," he said.
In fact, he added, "I know why they did it: to demand that there should be limitations on free speech." This idea is not as controversial as it might seem, he said, for in fact freedom of expression is never absolute anywhere: it is always negotiated in terms of what is reasonable to say, according to local and national constraints. "Canadians restrict free speech," he pointed out, "according to criteria that is specifically Canadian; while the American perception of free speech is specifically American."
These criteria are not universal. For instance, he said, anti-Semitic speech used to be very prevalent in western countries, but is now considered unacceptable and can even be punished as a crime. "This did not evolve naturally. It came to be because of protest, struggle, demanding respect—that's what I mean by negotiation."
"Professor An-Na'im's talk was deeply thought-provoking," said Colleen Sheppard, Director of the Centre for Human Rights and Legal Pluralism. "He inspires us to engage our own human agency, and to think about our own individual role in human rights advocacy."
For more from Professor An-Na'im, see "Four Burning Questions" in the McGill Reporter, and his Emory Law School page.
The John Peters Humphrey Lectureship in Human Rights, presented by the Centre for Human Rights and Legal Pluralism, is an annual lecture series founded in 1988 to commemorate the 40th anniversary of the United Nations Universal Declaration of Human Rights, originally drafted by McGill Law Professor John Humphrey (BCL'28).
– Story by Bridget Wayland
– Photos by Lysanne Larose