November is always a brisk and busy time at the Faculty of Law. This month, we squeezed in dozens of legal workshops, lectures, colloquia, debates and other events before the last day of classes on December 4. Here are but a few.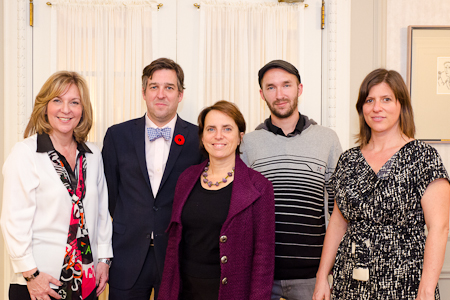 La première des cinq conférences de formation continue de la série "Une pensée d'avance – Think Ahead" pour la saison 2012-2013 a eu lieu le 30 octobre. La professeure Alana Klein et Me Alexander Pless ont présenté la position de la Cour suprême sur les centres d'injection supervisée, dans l'affaire Canada (P.G.) c. PHS Community Services.
Le 27 novembre prochain, ne manquez pas la conférence suivante, intitulée, « Où en sommes-nous avec le suicide assisté après Carter c. Canada (P.G.)? », avec les professeurs Margaret Somerville et Daniel Weinstock. (Voir Formation continue en droit pour vous inscrire aux conférences.)
Also on October 30, the Faculty's Grupo Hispano presented a Spanish-language talk on arbitration, entitled "El Arbitraje Moderno: Orígenes y Principios," by Diego Gosis. Gosis represents the state of Argentina in matters of investment and commercial arbitration and has acted for and against sovereign states in some 30 international proceedings, many of which involved stakes in the billions. The talk was followed by a trilingual Q & A.
"Is there a Human right to health?" So asked Jonathan Wolff, Professor of Philosophy and Director of the Centre for Philosophy, Justice and Health at University College London, in a November 6 talk in the Moot Court, presented by Professor Daniel Weinstock and the Montreal Health Equity Research Consortium (MHERC).
Le 15 novembre, le Centre des politiques en propriété intellectuelle (CPPI) de McGill a tenu sa quatrième conférence du cycle Concurrence et Innovation à l'hôtel Westin. Intitulée "La propriété intellectuelle et la circulation internationale des biens : perspectives nord-américaines et européennes," la conférence de cette année avait pour objectif de faire état de la recherche récente sur le rôle et la fonction des droits intellectuels dans le domaine de la distribution. Elle était présentée par le CPPI en partenariat avec l'Association Internationale des Jeunes Avocats (AIJA) et le Centre de recherche de droit public de l'Université de Montréal (CRDP).
On November 16, the Paul-André Crépeau Centre for Private and Comparative Law presented a Civil Law Workshop led by Silvia Ferreri of the University of Turin. In a talk entitled "The Appearance of Ownership: Sale of Another's Property," Professor Ferreri presented the origins and consequences of Article 1153 of the Italian Civil Code, a unique provision that does not treat stolen or lost goods distinctly when dealing with the effects of possession. This was the latest in the Crépeau Centre's decade-long series of workshops showcasing new ideas relating to aspects of fundamental private law in the civilian tradition. (See more upcoming events at the Centre)
Enfin, le 21 novembre, Dr. Sonia Lawrence, professeure à Osgoode Hall et Directrice du Institute for Feminist Legal Studies, a présenté un atelier intitulé : "Is All Discrimination Alike? The Place of Analogy in Equality Struggles and Jurisprudence."  Cette présentation a eu lieu dans le cadre des Ateliers Annie MacDonald Langstaff, créés en l'honneur de la première femme à obtenir un diplôme en droit au Québec.
-B.W.