McGill Law students run a unique legal clinic dedicated to freeing wrongfully imprisoned Quebecers

The  Innocence McGill team. Front row, L to R: Patrick Martin-Ménard (1L), Irina Nica (1L), Kerrie Rowan (LLM), Assaf Gal-Or (3L), Garrett Zehr (2L). Back row, L to R: Eric Brousseau (3L), Amanda Ghahremani (1L), co-director Rilla Banks (3L), co-director Julia O'Byrne (3L), Louis-Nicolas Gauthier (3L), Sandra Aigbinode (2L), Valérie Hébert (3L). Missing: Melissa Austen (3L), Diya Bouchedid (2L), Ruth Silva-Smith (3L).
Operating as Innocence McGill, a group of thirteen student volunteers, led by 3Ls Julia O'Byrne and Rilla Banks, have been tirelessly working to release innocent people from incarceration in Quebec.
By Bridget Wayland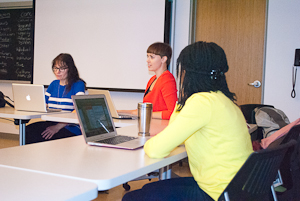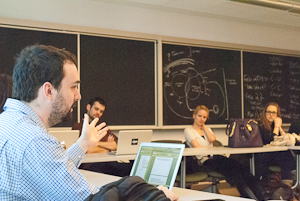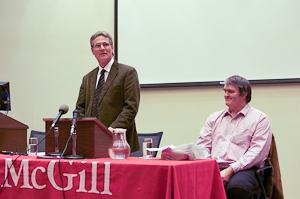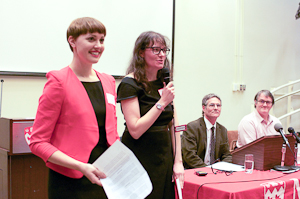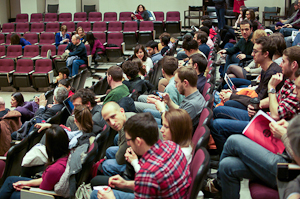 Innocence McGill is recruiting!
Innocence McGill is currently seeking its new directors for 2013-14. Law students must be in third or fourth year, and able to commit at least eight hours per week for the full academic year. They will receive credit through the legal clinic course for this commitment.
For information, please contact Innocence McGill at innocence.law@mail.mcgill.ca. Deadline is March 15, 2013.
At Innocence McGill, dedicated law students receive applications from Quebec prisoners who claim to have been wrongfully imprisoned. They study each file to see if it meets certain criteria—the applicant must have been convicted of a serious indictable offense in Quebec for which he or she claims innocence, must have exhausted all rights of appeal, and must be able to present new evidence which points to their innocence.
"Once the appeals are exhausted," says Banks, "Section 696 of the Criminal Code of Canada is their only hope. But it's a very long application, and they need the assistance of people outside to fill it out—you can't do it from prison."
If the case is accepted, the students refer it to Innocence McGill's founder, supervisor and external legal counsel, Me Robert Israel (BCL/LLB'06), who becomes the client's official legal representative, pro bono.
"We have four active files right now," says O'Byrne, "and we're investigating them. It's a slow process because it depends on the availability of someone who is in prison, with restrictions on their time and freedom."
When Innocence McGill was founded at McGill's Faculty of Law in 2006, it joined a network of individual "Innocence Projects" scattered across North America, which have worked to free 300 innocent people since 1992. In Canada, prominent examples include Guy Paul Morin, Romeo Phillion and Gary Staples, who were recently freed with the assistance of the Osgoode Hall Innocence Project.
Canada's most famous case of wrongful conviction has to be that of David Milgaard, who spent 22 years behind bars for a crime he did not commit. After a determined effort by his mother, Milgaard was finally released in 1992, when the Supreme Court of Canada set aside his 1970 conviction. He received a public apology from the Government of Saskatchewan when DNA evidence cleared his name in 1997, and was awarded compensation of $10 million in 1999. His case triggered a public inquiry, whose 2008 report concluded that the criminal justice system had "failed" David Milgaard, and called on the federal government to create an independent body to review allegations of wrongful conviction.
On February 12 of this year, David Milgaard spoke at the annual Innocence McGill Conference. He was accompanied by Peter Edwards, the Toronto Star journalist who helped David's mother, Joyce, publish her story. The event, put on by Innocence McGill with financial assistance from the Dean's Discretionary Fund, drew about 140 people, including students from several McGill Faculties, Concordia and the University of Ottawa, as well as lawyers, prison justice advocates and many members of the local community.
According to the co-directors, the conference was a key part of Innocence McGill's mission to educate the public on issues of wrongful conviction and the miscarriage of justice in Canada, but community outreach is equally important. "It's difficult to get our pamphlets into prisons, so we're spreading the word about our services to people who do prison outreach work, and making inroads and getting our name out there," says O'Byrne.
Both O'Byrne and Banks joined Innocence McGill in their third year of law school for similar reasons: they have a strong interest in criminal law, and wanted more practical experience in this field. "I'm also involved with social justice issues," adds O'Byrne, "and I think there are problems of injustice inherent in the criminal system."
After O'Byrne graduates this semester, she will return to her home province to article for Legal Aid Ontario in Owen Sound. "I'm definitely considering a career in criminal defense, she says. "I want to keep doing pro bono work, and also continue doing social justice work, particularly with issues surrounding women and criminal law."
Banks, who still has one semester left in her BCL/LLB degree, also sees herself continuing this kind of work after law school. "I'll be articling at a firm back home in Halifax that does all kinds of law, including criminal law," she says. "Maybe I could help to get a Dalhousie Innocence Project started, or even work as their supervising lawyer."
Before that time comes, however, their final task as co-directors will be to pass the torch, smoothing out any kinks in the transition with the help of a new director-training manual they are currently finalizing.
"It's going to be exciting to bring in our new members," says Banks. "It's important to have a good spread of first years, second years and third years—they each can contribute different things."
Both directors agree that they had a great group of volunteers this year, including an LLM student from Ireland, Kerrie Rowan, who has worked on wrongful conviction issues in The Hague. "We hope that many of our members will want to continue on, so the group is able to retain an institutional memory from year to year," says Banks.
"We made an effort to have a low turnover rate by choosing really committed first-year students," adds O'Bryne. "For two of them, Innocence McGill was one of the main reasons that they applied to McGill!"
Innocence McGill team photos: Lysanne Larose.
Innocence McGill conference photos: Ke-Jia Chong.