3L Joey Flowers spent a weekend in March cooking up braised bison short ribs and Arctic char to raise money for Montreal's Native Women's Shelter.
His efforts caught the attention of the Montreal Gazette's education reporter Peggy Curran, who wrote a column about how Flowers trained as a professional chef before arriving at the Faculty of Law:
Flowers, an Inuk-English Canadian who grew up in Kuujjuaq and Happy Valley-Goose Bay before settling in Montreal more than a decade ago, is a man of many hats.
He studied at l'Institut de Tourisme et d'Hôtellerie du Québec, then put his training to work in some of the city's finest eateries, learning from the likes of Michel Ross and Gita Seaton at Le Club Chasse et Pêche, Mediterraneo and Les Chèvres.
Meanwhile, Flowers went back to school, earning a bachelor's degree in linguistics from McGill before enrolling in McGill's law school. With a year to go before collecting his law degree, Flowers holds the Jane Glassco Arctic Fellowship and is a student representative on Canada's Indigenous Bar Association. He's also a long-distance cyclist.
But Flowers still loves to cook, often making dinner or putting up preserves with his wife, Jayne. So when he heard how the Native Women's Shelter of Montreal was struggling to make do after federal budget cuts slashed core funding to the aboriginal healing foundation last summer, he was keen to help.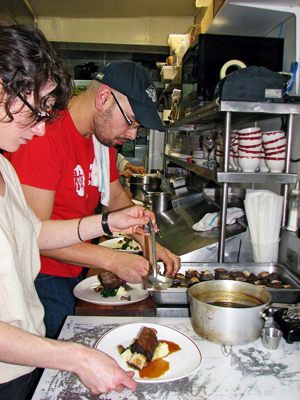 "We know the Inuit use these services," said Flowers, whose mother works at a women's shelter in Kuujjuaq.
Since funding was chopped last spring, the Montreal centre, which provides shelter and support to First Nations, Métis and Inuit women in the urban core, has had to cut back on traditional healing and other innovative programs.
Following the feast, Curran also provided an update on the success of the event, which raised $12,000:
The event, dubbed Mamu Chu Chi Nan, took place Sunday night at Gita Seaton's Le Nouveau Palais, and was, Flowers happily reports, a great success.
"We raised more than $12, 000. About 70 people showed up to eat. We had a team of six in the kitchen and about seven in the front of house."
Flowers, who trained at the Quebec hotel and tourism institute before switching gears and enrolling in law school, served up bison short ribs with mashed potatoes, spinach and mushrooms, as well as northern delicacies such as Labrador tea chocolates, made and donated by Les Chocolats de Chloe, and shrimp, arctic char, seal and Northern Delights tea bags, all either donated or bought at discount prices.
Photo credits: Allison Flowers.