Four Law students were inducted into McGill's venerable Scarlet Key Society in March, in recognition of their efforts and contributions to McGill and the community.
By Victoria Leenders-Cheng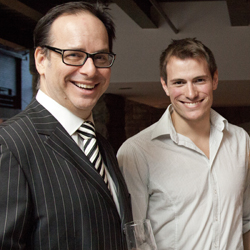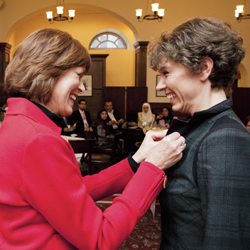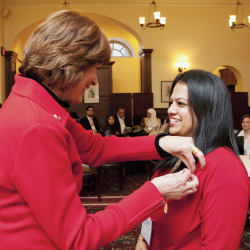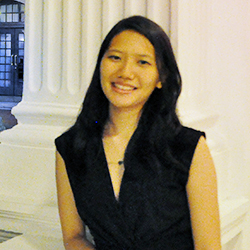 James Desjardins, 4L, is used to diving into things head first: as an engineering undergraduate at McGill, he captained the Redmen swim team and created the team's official website. Returning to the university as a law student in 2008, Desjardins also helped coach the team and co-founded the McGill Swimming Association for alumni, all while balancing his legal studies with participation in a burgeoning punk rock band.
In fact, when the McGill Scarlet Key Society selected Desjardins as a recipient of its annual Scarlet Key Award this year, Desjardins was unable to attend the pinning ceremony because he was on tour in Europe with his band!
Nevertheless, Desjardins said, the award captures how his extracurricular experiences contributed to his time at McGill, including the competitive swimming program in particular: "I feel indebted to the program which has given me so much, and committed to ensuring that others will have a  similar opportunity in the future."
Law Head Librarian Daniel Boyer, who has sat on the Society's selection committee, noted that the Faculty's four recipients are a testament to the students' diversity of interests and commitment to life beyond Chancellor Day Hall: "Our students excel in the classroom but these awards also show the extent of their involvement in the McGill community."
Sara Ross' Scarlet Key recognized her contributions to various student groups around the Faculty, chief among them the McGill Law Journal, for which she served as editor-in-chief this year. Ross developed and put into effect the first fully electronic editing system for a McGill legal journal, publishing the first issue during the fall semester for the first time in nearly ten years.
As editor-in-chief, Ross also worked to bring renowned novelist Carlos Fuentes to the Faculty for the Law Journal's Annual Lecture and she notes that the McGill community has significantly shaped her time here.
"Amidst the late nights and stress-filled days, there is a real community at the Faculty of Law that has given me a lot," she says. "Being a part of the Scarlet Key Society opens an avenue for giving back to the university even after I graduate, and to remain connected to the school that I am very happy to have attended for five years now."
All four of Law's Scarlet Key recipients will graduate in June and, at press time in late March, both Tanya De Mello and Cindy Kou were in the running to become class valedictorian.
De Mello received her Scarlet Key for providing students with opportunities to "learn by doing" and as director of Pro Bono McGill, she placed over 80 law students in non-governmental organizations to work in legal research and serve clients.
"The award honours a commitment to community and McGill recognizes that as a a priority, which I think is essential to a healthy academic environment," said De Mello, who also founded Community Action, a social justice student group, and the annual Christie Bike Ride, where students embark on a 20 to 100 km bike trip to raise funds for local legal clinics.
In turn, "I almost left law school (twice, actually)," Kou confesses in her valedictorian nomination. "Yet, here I am, beaming."
Kou's Scarlet Key recognized her leadership in developing the Asian Pacific Law Association of McGill (APLAM), which is now a strong Asia-focused presence at the Faculty of Law. As president of APLAM, Kou helped initiate the Annual Asia Pacific Speaker Series and also worked to use web conferencing technology to bring speakers from all over the world to share their insights at McGill.
In her nomination, Kou continues, "In our own ways, I believe we've each been negotiating where the law fits into us, where we fit into the law, and back again from the day [we entered the Faculty.]"
"… Je crois que nous continuions chacun(e) à se demander ce que nous voulions devenire, pour nous mêmes, nos proches, et nos communautés."
*The original version of this article misattributed a quote to Cindy Kou that should have been attributed to a fellow nominee for valedictorian, Leah Kutcher. We regret the error.
Photo credits: Nicolas Morin (except Cindy Kou's photo)