The Faculty of Law will recognize influential jurist Reinhard Zimmermann with an honorary Doctor of Laws at its Convocation ceremony at 10 a.m. on Friday, June 4, 2010.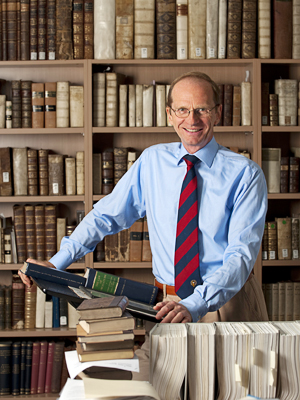 Professor Dr. Dr. h.c. mult. Reinhard Zimmermann is one of the world's leading authorities in comparative law and legal history and serves as Director of the Max Planck Institute for Comparative and International Private Law in Hamburg, Germany. He also holds the chair of Private Law, Roman Law and Comparative Legal History at the University of Regensburg.
Zimmerman's tenure at Regensburg also brought about an unusual honour: he is featured prominently in a series of novels by Alexander McCall Smith, the author of The No. 1 Ladies' Detective Agency. The series, entitled The 2 ½ Pillars of Wisdom, is a tongue-in-cheek account of the exploits of three distinguished, German professors of philology.
McCall Smith, a close friend of Zimmermann's, conceived of the series during visits to Regensburg. "Two or three of the stories," Zimmermann explained, "are based (with some poetic licence!) on my own experiences."
For his work in the fields of comparative, contemporary private law, legal history and Roman law, Zimmermann received the Gottfried Wilhelm Leibniz Prize, Germany's highest honour for scholarly achievements. Zimmermann has also significantly contributed to the study of mixed jurisdictions and has brought their experiences to bear upon the discussions surrounding the emergence of a European private law.
Zimmermann will be recognized during the spring convocation ceremonies for the Faculty of Law, which will take place on Friday, June 4, 2010, at 10 a.m. on the McGill lower campus.