Before becoming a top executive at a multinational performing rights organization, Shirin Foroutan, BCL/LLB'03, was on a much different path. And while her career took her beyond the legal industry and far from Montreal, Foroutan told Focus online that she carries lessons from her time at McGill Law with her every day.
By Claire Loewen
From a young age, Shirin Foroutan  had a deep interest in learning about human culture and traditions.
Now VP, Creative, Europe, for Broadcast Music Inc. (BMI), one of the largest performing rights organizations in the world, engaging with cultures around the world is just another part of the job for Foroutan.
This passion for culture – which grew into an interest in international humanitarian work  –  is also part of what brought her to McGill Law in 1999.
"I discovered that McGill was heavily focused on international work in law school," Foroutan told Focus online from Brussels.
Though she ended up graduating with distinction, Foroutan admits she struggled in her first year of the program.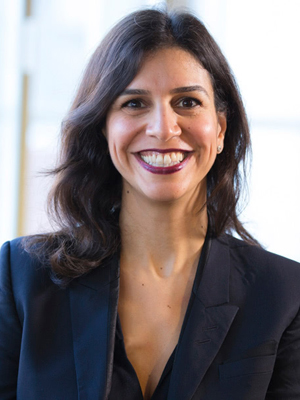 Shirin Foroutan, BCL/LLB'03: "If you're not sure if you want to practise law, that's OK. You're there for the education. You can decide that later. Find what you really enjoy."
Approaching cultural difference with understanding and awareness
"At the start, I found it quite difficult and I didn't know if I wanted to stay there," she said. "That said, I adored a lot of my education, where I finally cut my teeth, and that came from a lot of support from my friends in law school, but also from the professors and staff."
Mutual support from her peers was one of the things that helped Foroutan. "There were extraordinary women at McGill law as well who really pulled up other ," she says, recalling support from Cara Cameron, BCL'01, LLB'02, now a partner in Davies' Montreal office, who was her student group advisor. Foroutan also recalls the Assistant Dean (Admissions) at the time, Victoria Meikle, who encouraged her to be herself – not who others might want her to be.
Foroutan credits McGill Law – including courses taught by professors René Provost, Jean-François Gaudreault-Desbiens and Patrick Healy – with helping broaden her understanding of the world.
"In the transsystemic program, we were taught to approach cultural difference with understanding and awareness," Foroutan said. These are lessons that she has carried with her and built on throughout her professional life.
After graduation, she took up an articling position in Toronto, but soon realized that she could not see herself in that world.
"I was always drawn professionally to music; not as a performer, but as someone who understood that there was a world behind the artist that gets up on stage," Foroutan said.
Deciding to pursue that interest, Foroutan took a leap and landed as Director of Legal Affairs for Live Nation Global Touring, where she had the chance to work on the tours of artists including U2, Madonna and the Rolling Stones.
From there, she became Director and Legal Counsel of Ceremonies for the Vancouver 2010 Winter Olympic and Paralympic Games , then Senior Legal Consultant for Ceremonies of the London 2012 Olympic and Paralympic Games..
Foroutan went on to join BMI in September 2019 where she signs, nurtures and retains critically acclaimed and up-and-coming songwriters.
"You're here for a reason"
For current Law students who might be feeling unsure about their place in the program, like Foroutan sometimes did in her first year, she says, "You got in for a reason. McGill Law didn't pick you just for your GPA."
"You were absolutely chosen to take one of those seats," Foroutan adds. "Be who you are. Don't be who you think the class needs you to be."
Acknowledging that studying from home during a pandemic might not be easy, Foroutan recommends students try to get outside every day, no matter how bad the weather is. "Find something you enjoy doing even at home, something that makes you laugh; carve that time out; find a routine," she said.
Foroutan also advises students to take full advantage of the resources and "intellectual powerhouses" surrounding them during their time at McGill.
"If you're not sure if you want to practise law, that's OK," she said. "You're there for the education. You can decide that later. Find what you really enjoy."