#LawNeedsFeminismBecause campaign takes off
Rachel Kohut and fellow students organized a new photo campaign called "Law needs Feminism because…". This was inspired by the "I am a Feminist and…" campaign that was organized by the McGill Law Feminist Collective and which went viral a couple of years ago. This new campaign features beautiful photographs of law students and faculty members completing the sentence with their take on why the legal system needs to embrace feminism.
Read more on CBC Montreal or visit the campaign site at www.lawneedsfeminismbecause.ca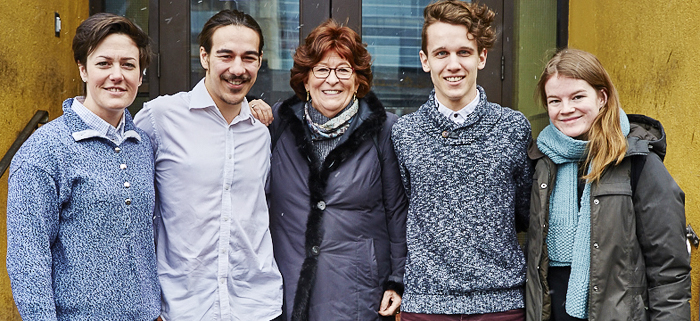 La Clinique juridique itinérante: 35 étudiant.e.s en droit viennent en aide aux plus démunis avec le soutien de Louise Arbour
Grâce au programme d'apprentissage expérienciel de la Faculté, Katherine Richardson-Arnould, Frédéric Bertrand, Antoine Beauchemin et Claire Bentley sont parmis les étudiants en droit qui aident des itinérants de Montréal à se retrouver dans le système judiciaire. Ils travaillent pour la Clinique juridique itinérante, qui est formée de 35 étudiants en droit provenant de l'Université du Québec à Montréal, de l'Université de Montréal et de l'Université McGill. Ces étudiants sont supervisés par 12 professeurs et avocats du Barreau. Récemment, l'ancienne haute-commissaire des Nations unies aux droits de l'homme et ex-juge à la Cour suprême du Canada Louise Arbour a accepté d'en devenir ambassadrice.
CTV News (April 8, 2016): Louise Arbour, law students help homeless navigate justice system
La Presse (8 avril 2016) : Louise Arbour devient l'ambassadrice de la Clinique juridique itinérante
Nouveau site web pour la Clinique d'information juridique de McGill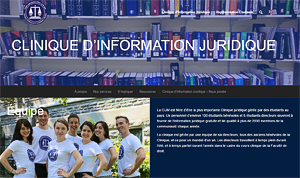 Durant l'été 2015, la Clinique d'information juridique à McGill s'est dotée d'un tout nouveau site web. L'ancien site datait déjà de plusieurs années, si bien que la Clinique voulait une image nouvelle, moderne et professionnelle, de même qu'une interface web facile à utiliser.
Le nouveau site comprend plusieurs ajouts intéressants, tels que la liste des membres du conseil d'administration, une vidéo promotionnelle, une page pour les anciens qui aimeraient entrer en contact avec la Clinique, et un formulaire pour les avocats praticiens qui souhaiteraient venir en aide à la Clinique!
Consultez le nouveau site à licm.mcgill.ca!
The Davies Community Engagement Fund supports students!
On March 16, 2016, Davies Ward Phillips and Vineberg celebrated the achievements of the three student recipients of the Davies Ward Phillips & Vineberg Fund for Community Engagement at their Montreal office.
Hillel Rosen, Faculty of Law Advisory Board Member and partner at Davies, welcomed more than 25 of the lawyers who generously donated to this Fund to learn about the impact of their gift. Dean Daniel Jutras highlighted the remarkable pride that McGill graduates carry with them, as demonstrated by the amazing turnout at this event.
The three students recipients – Bachir Abouchakra, Rachel Leya, and Gabriella Utreras – described how this gift helped them personally and helped the community organizations in which they worked over the summer (Montreal City Mission, Dans La Rue, and the Center for Research Action on Race Relations). The fund allowed the students to complete the otherwise self-funded Legal Clinic Course.
Special thanks to Hillel Rosen for organizing the event, and to all donors for their generous support of the Faculty of Law and its students.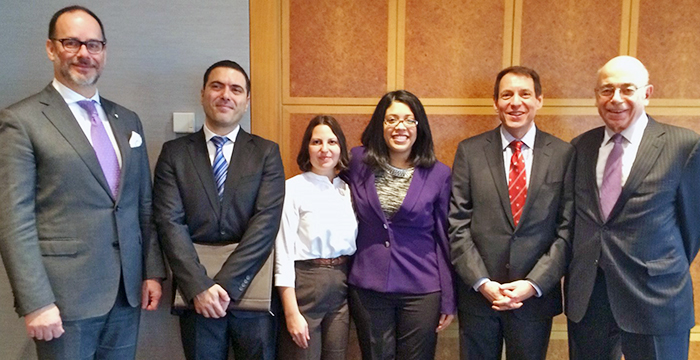 Chana Edelstein primée par la Fondation Claude Masse
L'étudiante à la maîtrise Chana Edelstein, qui est dans la phase finale de rédaction de son mémoire sur la protection du consommateur après l'arrêt Marcotte de la Cour suprême, a remporté la Bourse de maîtrise de la Fondation Clause Masse pour l'année 2015-2016. Le comité de sélection « a apprécié son projet ambitieux » et lui a remis une bourse d'une valeur totale de 2 000$.
Alexander Ezenagu a semi-finalist of the St. Gallen Wings of Excellence Award 2016
In this contest, over 800 students from all over the world submitted an essay to win a chance to present their ideas on alternatives to economic growth at the 46 St. Gallen Symposium in May and to win the Wings of Excellence Award endowed with a total prize money of CHF 20,000.
Doctoral student Alexander Ezenagu's essay Economic Growth: the Good, the Bad, and the Ugly has made it into the semi-final so far, the finalists will be announced on May 1, 2016. Good luck, Alexander!
Miriam Pinkesz remporte un prix pour son article sur Carter c Canada
L'étudiante Miriam Pinkesz a récemment publié un article intitulé "Carter c Canada: Un tournant dans le droit fondamental à mourir au Canada" (Trinity College Law Review, mars 2016) pour lequel le comité de rédaction de la revue lui a attribué le prix du meilleur article en langue française.
Le prix consiste en un stage auprès du Conseil constitutionnel français. Miriam entreprendra ainsi son stage à Paris en juin.
Végétarisme: un dérangement salutaire
Michèle Giguère, finissante en droit à McGill, et Julien Gagnon, doctorant en économie à l'U. de Cambridge, La Presse+, 13 avril 2016
« Les végétariens dérangent.
Ils dérangent parce que le végétarisme, qui repose souvent sur une décision éthique, remet en question et juge implicitement le choix des autres. Ainsi, pour un végétarien, pas besoin d'être militant pour déranger, pour contrarier : sa seule présence souvent suffit à provoquer des réflexes de défense…»
Plus que des bagels: Jeunes, juifs et fiers de leur cuisine
Émilie Bilodeau, La Presse+, 31 mars 2016
Depuis deux ans et demi, l'étudiante en droit Sydney Warshaw et sa complice Katherine Romanow organisent des soupers pop-up qui mettent en valeur une cuisine juive peu connue des gens d'ici. Elles font rayonner les mets des communautés juives de l'Irak au Mexique en passant par l'Italie et la Finlande.
En créant The Wandering Chew, qui célèbre la cuisine juive et sa culture à travers des événements culinaires, les deux jeunes femmes ont en quelque sorte voulu élargir les horizons des Montréalais…
L'affaire Ghomeshi: Le rouleau compresseur
Aurélie Lanctôt, étudiante en droit, Droit Inc., 30 mars 2016
« Si le jugement rendu hier par la Cour de justice de l'Ontario déçoit, n'oublions pas que la responsabilité de cette déception nous revient à tous. C'est à la société de dicter les changements qu'elle veut voir inscrits dans la loi, car l'inverse ne sera jamais suffisant. Espérons que cette sordide affaire nous fasse au moins prendre conscience de cela… »
La fin des hommes n'est pas arrivée
Jérémy Boulanger-Bonnelly, BCL/LLB'15, et al., Le Devoir, 17 mars 2016
« Les femmes accèdent certes davantage à l'éducation supérieure que les hommes, mais en dépit de ce fait, elles demeurent largement désavantagées sur le marché de l'emploi… Nous croyons que nous profitons, toutes et tous, d'une société égalitaire. Nous nous réjouissons des progrès des dernières décennies au chapitre de l'égalité entre les hommes et les femmes. Cependant, force est d'admettre qu'il reste encore beaucoup à faire. Laissons le Conseil du statut de la femme, qui y travaille depuis 1973, continuer son mandat. »
Just legalize marijuana — and sort out the details later
Law student Tyson Lowrie in The National Post, March 16, 2016
"Of all of the promises the Liberals made in the lead-up to last year's election, one would have thought that legalizing marijuana would be an easy one to keep, as it would be pretty easy to do.
The basis for marijuana's illegality in Canada is its inclusion in several schedules of the Controlled Drugs and Substances Act (CDSA). If Prime Minister Justin Trudeau is serious about his election promise, he should take the obvious first step and propose legislation that would remove marijuana from the CDSA…"
Senate reform and partnership with indigenous peoples, all in one
Law student Ghaith El-Mohtar in the Montreal Gazette, March 13, 2016
"The Liberal government's reform of the Senate appointment process is a missed opportunity.
The problem it tackles — patronage appointments by the prime minister — is a non-issue compared to our broken covenant of friendship with First Nations. The Senate's role should be to uphold this friendship, as a shared assembly for aboriginal and non-aboriginal peoples.
A disclaimer: I am not aboriginal, and I do not speak for them. I especially do not intend aboriginal representation in the Senate…"