Every summer, a select group of McGill law students spend 12 weeks as interns with NGOs around the world, be it in Uganda, working for the Refugee Law Project, with the Centro de Estudios Legales y Sociales in Argentina, or in Iqualuit, with the Maliiganik Tukisiiniakvik Legal Services office.
Here, Siena Anstis (at right, above), a second-year law student, reflects on her internship with the League for the Promotion and Defense of Human Rights in Phnom Penh, Cambodia.
The League for the Promotion and Defense of Human Rights (LICADHO), where I spent the summer interning in Phnom Penh through the McGill Law Center for Human Rights and Legal Pluralism, works to protect human rights defenders and victims of human rights abuses in Cambodia.
LICADHO provides a unique, holistic response to these issues. Besides offering pro-bono legal representation in specific cases, the organization provides free paralegal assistance, medical care, and social work services. LICADHO's Advocacy and Promotion Program assists with the compilation and dissemination of press releases, briefing papers and reports on human rights issues (LICADHO is the go-to organization for accurate and up to date information on human rights abuses in the country), as well as audio, video and photographic coverage.
As an intern with LICADHO, I had the opportunity to learn about a number of different human rights abuses happening in the country on a daily basis.  I also learned more about human rights advocacy at the grassroots level and the importance of facilitating the development of community networks to combat situations like land evictions and the imprisonment of union leaders. Organizations like LICADHO, which work with a number of human rights groups in the region, are able to bring these networks together and facilitate learning and an exchange of non-violent resistance techniques.
Without a doubt, human rights defenders in Cambodia are fighting an uphill battle. There are five pieces of legislation– three enacted and two in draft form – that are impairing (or will impair) people's most basic and important freedoms: freedom of expression and related rights like freedom of association and assembly. For example, the use of incitement in the new Penal Code has already served to convict a World Food Program employee who printed out pages from an opposition website, ki-media, and circulated among colleagues. If communities continue to be evicted from their land without fair recourse to the courts (evictions are the leading cause of human rights abuses), LICADHO believes that there may be more situations like last month's violence in Kampong Speu where villagers defended their land with arms.
In particular, I spent much of my internship working on the associations and non-governmental organization draft law. If this law passes, it will effectively give the Cambodian government control over civil society and destroy the last body able to pressure the government and hold it accountable. Preventing this law from passing requires the coordination of all affected parties, including local and international NGOs. Many observers also believe that the private sector should be concerned if this law passes as it will likely be used to clamp down on organizations critical of the government – the same organizations that keep an eye on corruption. While there has been a strong effort by international NGOs, other representatives like the UN Special Rapporteur on the situation of human rights in Cambodia continue to argue in favor of dialogue with the Cambodian government rather than pressure. LICADHO does not quite agree with this position.
The danger is that new legislation in a country like Cambodia could add to the gross ineffectiveness and corruption within the court system (Cambodia ranked a stellar 35/36 on the World Justice Project Rule of Law Index). More legislation gives the government more reasons to 'legitimize' the imprisonment of human rights defenders. In particular, the court system does not have the capacity to consistently and fairly implement the law. Nor can it determine the boundaries of loosely drafted legislation. For example, the current draft trades union law permits the outlawing of demonstrations by unions for "purely political purposes." This could be used to ban demonstrations against government policies like minimum wage. Considering Cambodia's current court system and a long list of absurd convictions, this will likely be allowed.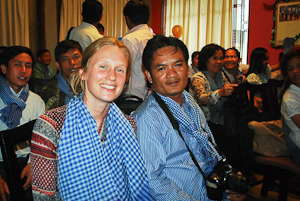 Despite these difficulties, the human rights community in Cambodia is resilient. Working in this field requires total dedication, enduring long work hours and constant pressure (for example, read Sunrith's story here). It also means becoming part of a family (with tasks that include feeding colleagues home-made desserts). In June, I was also fortunate enough to witness two so-called 'wins'. After a football game was slated to take place on the former land of the evicted Dey Krahorm community, pressure from both the private sector and human rights groups led to the tournament being cancelled. More recently, trade union leader Sous Chantha was released from jail after just over seven months (though he was still charged with drug distribution, which human rights groups believe to be trumped up charges).
So, all in all, this experience with LICADO proved to be an edifying introduction to the defense of human rights in the field and a sound complement to learning in academe.
To read more about specific incidents mentioned in Siena's post, check out her blog, in which she writes about her adventures in Cambodia and other human rights initiatives in which she is involved.
Jean-Philippe Mac Kay, aussi un étudiant de deuxième année, a travaillé au Chambres extraordinaires au sein des tribunaux cambodgiens et a publié le texte ci-dessous dans les pages du Devoir.
Le tribunal des Khmers rouges traverse une crise sans précédent dans l'histoire de la justice internationale. Cette instance, qui devait mettre un terme à l'impunité et amener les responsables des crimes commis sous le régime de Pol Pot devant la justice, semble être sur le point d'échouer lamentablement.
Les crimes commis par les Khmers rouges pendant le régime du Kampuchéa démocratique sont bien connus. Entre avril 1975 et janvier 1979, ces derniers ont mis en oeuvre des réformes macrosociales et agraires aussi étranges que radicales dont l'objectif avoué était de construire une société rurale nettoyée de toute influence extérieure. L'expérience du Kampuchéa démocratique, qui restera marquée dans l'histoire comme étant une vaine tentative, se fit dans la violence la plus abjecte. On estime qu'entre 1,2 et 2 millions de Cambodgiens ont perdu la vie pendant les trois années du régime.
Aujourd'hui, plus de trois décennies après la chute du régime, le procès de quatre anciens hauts dirigeants du Kampuchéa démocratique commence enfin aux Chambres extraordinaires au sein des tribunaux cambodgiens (CETC), le tribunal créé conjointement par les Nations unies et le gouvernement royal du Cambodge au début de la décennie.
Dossier 002 
Le procès de Khieu Samphan, Ieng Sary, Ieng Thirith et Nuon Chea, identifié comme étant le Dossier 002, fait suite à un premier qui s'est conclu l'année dernière par la condamnation de Kaing Guek Eav alias Duch pour sa responsabilité dans la mort de plus de 16 000 personnes au tristement célèbre centre de torture S-21. La publication de ce jugement aura véritablement marqué la fin de l'impunité pour les Khmers rouges.
La sentence de 19 années d'emprisonnement ordonnée contre Duch aura cependant soulevé l'ire des Cambodgiens qui traitent bien souvent les voleurs de façon moins clémente… Cela étant dit, cette justice est extrêmement lente et repose sur des fondements plus que fragiles: la crise qui secoue le tribunal depuis quelques semaines à Phnom Penh en est la preuve la plus probante.
Une crise qui couvait depuis plusieurs années
Pour connaître les tenants et aboutissants de cette crise, il est nécessaire de comprendre que ce tribunal n'est pas une instance pénale internationale au même titre que les tribunaux pour l'ex-Yougoslavie, le Rwanda ou la Cour pénale internationale. Les CETC forment ce que l'on appelle communément un tribunal «hybride»: le tribunal possède une dimension internationale, mais demeure fondamentalement un tribunal national dans lequel la moitié du personnel est nommée par le ministère de la justice cambodgien. Cette nature complexe s'explique par le contexte de la création des CETC à la suite d'une longue lutte politique entre l'ONU et le gouvernement cambodgien. Mettre un terme à l'impunité aura nécessité des sacrifices qui sont les causes profondes des nombreux problèmes qui militent aujourd'hui contre le bon fonctionnement du tribunal.
Des quatre procès que les CETC devaient mener, il appert que les troisième et quatrième procès n'auront peut-être jamais lieu. Hun Sen, l'autocrate qui dirige le pays d'une main de fer depuis près de vingt ans, soutenait initialement la poursuite des dirigeants khmers rouges, mais s'oppose désormais à l'ouverture de tout autre procès au-delà du Dossier 002. Pour plusieurs, certains membres du personnel des CETC semblent jouer le jeu du pouvoir politique.
Une justice perméable à l'interférence politique
Dans le système juridique cambodgien sur lequel est calquée la structure des CETC, ce sont les juges d'instruction qui ont le pouvoir d'envoyer un dossier devant une chambre de première instance pour que celle-ci puisse établir l'innocence ou la culpabilité d'un accusé. Les acteurs qui sont à l'avant-scène de la crise au tribunal des Khmers rouges sont les juges d'instruction allemand et cambodgien Siegfried Blunk et You Bunleng. Ces derniers considèrent que ces procès ne doivent tout simplement pas se tenir.
Dès l'annonce publique de la fin de leur enquête, observateurs et porte-parole d'organisations non gouvernementales impliqués de près ou de loin dans les CETC ont critiqué les juges en affirmant que ces derniers avaient littéralement bâclé leur enquête. Pour ces observateurs extérieurs, plusieurs indices laissent croire à un sabotage: les juges auraient vraisemblablement mis un terme à l'enquête sans avoir rencontré aucun des suspects, sans avoir interrogé les témoins clés et sans inspecter les charniers où les massacres couverts par ces dossiers se sont déroulés.
Plusieurs théories circulent quant aux raisons qui motivent les juges à ne pas poursuivre les enquêtes. Pour plusieurs, une décision politique serait derrière ce blocage. Le gouvernement s'oppose farouchement à ces procès, une opposition motivée par la crainte de voir ces anciens cadres khmers rouges, qui sont désormais membres du gouvernement de Hun Sen, être appelés à témoigner devant les CETC. Aux yeux de l'autoritaire premier ministre, il est inconcevable de laisser ce tribunal indésirable miner son pouvoir.
Espoir des victimes
S'ajoute à ce blocage un conflit entre les procureurs cambodgien et international sur la même question. Le procureur international soutient que les procès 003 et 004 devraient avoir lieu alors que la procureure cambodgienne se range du côté des juges d'instruction en affirmant que les CETC devraient clore leur mission avec le procès des quatre accusés du Dossier 002.
Ce conflit entre le personnel international et le personnel cambodgien n'est pas nouveau et découle directement de cet étrange compromis politique qui est à l'origine du tribunal des Khmers rouges. Cette tension originelle s'est maintenant transformée en crise. Il est encore trop tôt pour en connaître les raisons exactes, mais il n'en demeure pas moins que le tribunal des Khmers rouges voit son intégrité attaquée par des critiques qui pourraient bien lui être fatales. En plus de projeter une image d'incompétence profonde, c'est l'espoir des victimes de voir la justice mettre fin à l'impunité qui est sur le point d'être balayé par cette crise qui est digne d'une mauvaise farce.