Putting his legal education to creative use, recent graduate Dustin Milligan (BCL/LLB'10) has written a light-hearted children's book series on the Canadian Charter of Rights and Freedoms, just in time for its 30th anniversary.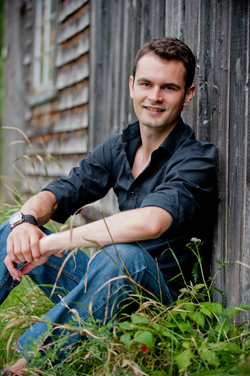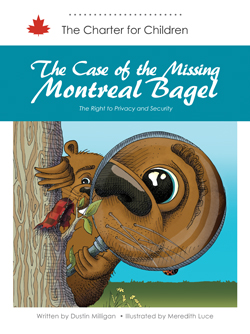 "I had the idea when I was in my first-year of law school," recalls the PEI native, now a litigator in Toronto. "I was a part of the Human Rights Working Group, and we went into schools to discuss rights and freedoms. One problem I noticed was that teachers had very few resources for this. So I took it upon myself to produce some."
High in kid-appeal, Milligan's tales are gentle, humourous and riddled with puns. In Anne of Green Tomatoes, for instance, the lead character and her tomato friends are forcibly painted red for market until the 'veggieslature' ensures their Right to be Safe and Secure.
Geared to grades three to five, each story of Milligan's The Charter for Children series is set in a different province or territory and addresses a specific right or freedom from the Charter, using examples drawn from, or inspired by, Canadian case law.
"I draw inspiration from Supreme Court of Canada decisions," he explains. For example, The Golden Hook is a direct analogy to the Sikh kirpan dagger case on freedom of religion, while the Portrait of the Artist as a Young Lobster more generally captures the Court's messages on freedom of expression.
Meanwhile, The Case of the Missing Montreal Bagel illustrates the importance of the Right to Privacy and Security for the Castor family, while The Plight Beneath the Northern Light shows Nunavut's polar bears restoring their Right to Meet and Form Groups.
"I try to capture some type of local flavour, reflect a certain provincial colour in all the stories," says Milligan, who relies on friends from across Canada as regional consultants. "I met so many people from different parts of the country at McGill, and I gained a consciousness of both legal systems that has been really helpful."
Milligan has just returned to Canada after seven months in the field, as a Canadian Bar Association intern with the constitutional litigation unit of Legal Aid South Africa, a country whose bill of rights was inspired in part by Canada's own.
"This is a document that applies to all citizens," says Milligan. "It spells out our basic rights, and I like the idea of empowering children with this knowledge. I'm hoping it instills in them the necessity of treating others with respect."
Eight more books will be published soon, all from DC Canada Education Publishing. Stay tuned to this space for information on a possible McGill launch in the new year, currently under discussion with Professor Shauna Van Praagh, who encouraged Milligan to develop his idea into a publishable series.
-Bridget Wayland