Norman May, BCL'61, was among those who attended the Dean of Law's Breakfast with his wife, Gloria, BA'61, on October 14 during Homecoming Week. Both grads were in town for their 50th class reunions, but they were also celebrating an anniversary of another kind – one with particular ties to the Faculty of Law…
Since 1865, when John Torrance established the Elizabeth Torrance Gold Medal in memory of his wife, the Faculty has presented the award at spring convocation to the student who graduates with the highest standing in the B.C.L. program.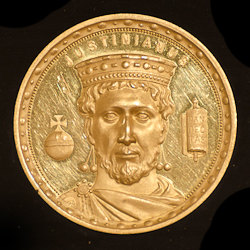 The list of recipients, which now spans almost 150 years and which is prominently displayed on two grand oak panels in the main hallway of Old Chancellor Day Hall, includes Supreme Court justices, members of parliament, senior law firm partners, university chancellors and women's rights pioneers.
We can only surmise what Pierre Mignault (1878, future Supreme Court judge), Elizabeth Monk (1923, first Quebec woman to become Queen's Counsel) or Jean de Grandpré (1943, CEO of Bell Canada until 1989) did with their medals, but Norman May (1961) put his medal to one very specific – and unusual – purpose: he used it to propose to the woman of his dreams.
Norman first met Gloria May (née Gloria Brodkin) on June 1, 1963, two years after they had both graduated from McGill, he from the Faculty of Law and she from the Faculty of Arts. Early conversations revealed a shared sense of values and goals – to commit oneself to family and to society – and the two soon felt a deep sense of kinship.
Indeed, Norman intended to propose soon after the two first met, but he had a slight problem: "Usually, one proposes with an engagement ring, but I'm not sure I could have afforded an engagement ring at the time," he recalled with a smile during a visit to the Faculty for the 50th anniversary of his graduation and for Homecoming activities in October.
Nevertheless, when he presented Gloria with the Elizabeth Torrance Gold Medal and asked her to marry him, Gloria understood the significance of the gesture ("I knew it was serious for him to give me such a prized possession") and readily said yes.
The two were married December 24, 1963, made their way to Toronto, where Norman eventually joined Fogler Rubinoff LLP and Gloria earned a Master's of Adult Education and Applied Psychology at the University of Toronto, becoming a registered marriage therapist.
"We always say that he's the head and I'm the heart of our relationship," Gloria explained.
The couple have four children and eight grandchildren. The gold medal, now encased in Lucite and supplemented in purpose by a wedding band on Gloria's hand, sits on the living room table of their home.
Story & photos by Victoria Leenders-Cheng. Historical photo from McCord Museum Archives.