Recent graduates receive 2011 John Peters Humphrey fellowships; students attend a special lecture with Supreme Court Justice Louis LeBel and the McGill Arbitration Society presents a workshop on negotiation.
Aussi: Doctorante Julie McCann nommée "Nouvelle chercheur" pour la série de conférences de la Chaire de recherche Jean-Louis Baudoin
2011 Recipients of the John Peters Humphrey Fellowship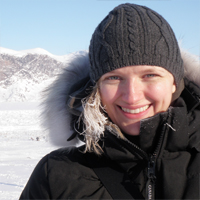 Every year, the Canadian Council on International Law awards up to four John Peters Humphrey Student Fellowships in International Human Rights Law or International Organization. The fellowships, valued at up to $35,000, are given to outstanding graduate students to permit them to pursue full-time graduate studies in institutions across Canada or world-wide.
This year, both recipients of the award are recent graduates of McGill Law:
Heidi C. Matthews, BCL/LLB'07, is currently a Doctor of Juridical Sciences (S.J.D.) candidate at Harvard Law School and is investigating the legitimacy of international criminal law as a justice-seeking institution in relation to the nation-state system. Her Faculty supervisor is Professor and Dean of Harvard Law, Martha Minow, who spoke to students at convocation in June 2011.
Sidney R. Thompson, BCL/LLB'06, is pursuing a Master of Law (LL.M.) at the Columbia School of Law and will undertake an independent research project to analyse the limitations of international criminal trials in taking into account women's experiences of sexual violence during war. Her project uses the Special Court for Sierra Leone, where Ms. Thompson worked as an associate officer in Trial Chamber II, as a case study.
Special conference with Justice Louis LeBel on commercial law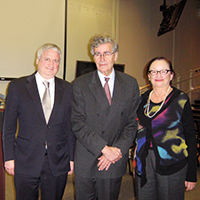 Students in the Commercial Law course were treated to a special conference with Supreme Court justice Louis LeBelin November.
The author of an important recent judgment on manufacturer's liability, ABB Inc. vs. Domtar Inc., Justice LeBel shared his reflections on the warranty of quality obligations of the manufacturer and the seller in Quebec and Canadian law.
Negotiation workshop draws much interest
Submitted by the McGill Arbitration Society
On November 14th, Jay Hewlin, a lecturer in the Desautels Faculty of Management and author of The First Fifteen Minutes (For Those Dating with Marriage in Mind), collaborated with the McGill Arbitration Society to host a two-hour workshop on negotiation skills.
The goal of the conference was to demonstrate the value of negotiation skills in the participants' personal and professional lives.  Conference attendance was capped at 30 participants, to ensure an intimate environment where Mr. Hewlin would be able to engage directly with the students.
Professor Hewlin began his lecture by introducing the class to a number of modern negotiation theories. He then ran a sequence of simulations intended to serve as case studies, demonstrating the strengths and weakness of various negotiation theories, while also highlighting the fallacies of a number of common assumptions in negotiation theory.  His simulations covered a broad spectrum of hypothetical scenarios, from negotiating a division of an orange between two parties to resolutions of classroom border disputes.
A theme of negotiation creating mutual advantage ran through Mr. Hewlin's seminar, and he made clear that he expected participants to leave with an appreciation that negotiations need not be zero sum games.
The seminar was warmly received, and a number of participants sought out Mr. Hewlin's e-mail in order to continue their dialogues with him beyond the seminar.
CYCLE DE CONFÉRENCES «NOUVEAUX CHERCHEURS» – CONCOURS 2012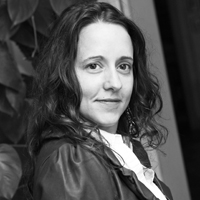 Chaque année, la Chaire Jean-Louis Baudouin en droit civil à l'Université de Montréal donne à deux étudiants au doctorat reçoivent la chance de présenter une conférence sur leurs travaux pour .
La Faculté félicite Julie McCann, doctorante à McGill sous la direction du professeur Jean-Guy Belley, qui a été retenue pour la série 2012 avec une conférence intitulée «La qualification civiliste du partenariat public-privé : inspirations françaises.»
La conférence aura lieu le 15 mars 2012 à 16h30 au salon des professeurs de la Faculté de droit à l'Université de Montréal.