For a third consecutive year, the Beaverbrook Canadian Foundation has generously provided its support to an innovative outreach initiative at the Faculty of Law.
The High School Outreach Program, administered this academic year by Acting Assistant Dean of Admissions and Recruitment, Nicole Ginsberg, and coordinated by second-year law student Jean-Marc Lacourcière, focuses on creating connections between law students and local high school students, providing opportunities for them to meet and learn from one another.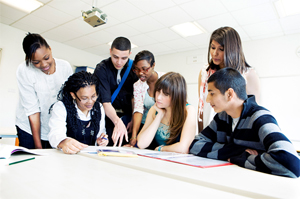 The program was initiated several years ago in response to the Faculty's concern for alarmingly high drop-out rates among high school students and the under-representation of visible minorities and underprivileged youth in legal education The program aims to inspire in high school students a desire to learn about the role of law – as well as a potential career in the field – in their own lives. This year, a total of seven educational institutions will benefit from its activities.
The High School Outreach Program operates as a result of the generous support of the Beaverbrook Canadian Foundation, which contributed $15,000 of much-needed funding for 2011-2012. This gift will be used towards the program's operating costs for the coming year and will allow the program, which currently involves over 250 high school students, to further extend its reach.
"The primary aim of the program," says Acting Assistant Dean Ginsberg, "is to create and foster a sustained link between law students and less privileged youth who may have not otherwise had an opportunity to forge a meaningful connection to the world of law and to provide those students with a forum in which to explore issues of law, rights, responsibilities and justice."
"At its core, the program is rooted in the commitment of our Faculty and our law students to public service, and in the recognition of Canada's youth as future leaders. We are immensely grateful to the Beaverbrook Canadian Foundation for its support of this important initiative."
Throughout the year, over seventy McGill law students pay between four and six visits to each of the partner schools to lead workshops and activities. The subject matter can range from such topics as Charter rights and socio-economic inequality to defamation on social networking websites. The law students return to the same schools several times throughout the year, with the aim of creating an ongoing relationship and rapport with the students.
This academic year, the program has extended its reach to an additional high school: École secondaire Chomedey-De Maisonneuve, a francophone public school in eastern Montréal. Program facilitators are also planning a workshop at Kiuna Institution, a new First Nations post-secondary school in Odanak and have already organized an extensive Aboriginal awareness workshop to provide the law student volunteers  with teaching tools and historical context to assist them in addressing issues particular to Aboriginal communities.
Also on the program's agenda this year is a "shadowing" event, in which high school students will attend Superior Court proceedings with law students.
For more information on the High School Outreach Program, please visit http://www.mcgill.ca/law-studies/volunteering/outreach/.
Article: Victoria Leenders-Cheng.
Photo: iStockphoto.