A visit to the Faculty from senior Russian jurists to discuss the subject of the rule of law prompts tough questions about just how much of a positive example Canada can provide
By Victoria Leenders-Cheng; Photos by Lysanne Larose and Victoria Leenders-Cheng
As a nine-member delegation from Russia visited the Faculty of Law in November, there was a call for more sunshine, but it wasn't in relation to the weather (which was, admittedly, rather overcast and grey).
Rather, guest panelist David Hutton, director of the Federal Accountability Initiative for Reform, was calling for sunshine as the most effective way to combat corruption.
"We are fortunate in Canada that we have less corruption than other parts of the world, but there is much more than people are aware of," he warned. "What's worse is that attempts to address the wrongdoing are often stymied and reprisals for whistle-blowing are on the rise."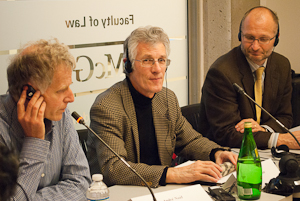 André Noël, David Hutton and David Lametti participated in a session that discussed civil society's contributions to controlling corruption.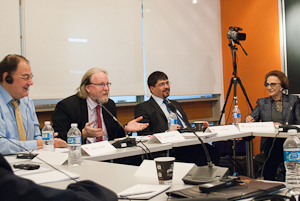 Humour was not always lost in translation, as a delegate shares a funny remark during a session.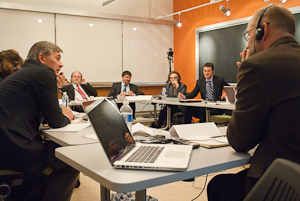 The dialogue, which was in French, English and Russian, was facilitated by simultaneous translation services.
One measure to counter this corruption and rise in reprisals, Hutton added, is to enact legislative measures often referred to as "Sunshine Laws," which make financial information public and ensure that these records are openly accessible.
The Russian delegation consisted of members of the Center for Legal and Economic Studies (CLES), a Moscow-based non-profit organization formed in 2010 to promote the rule of law and economic development in Russia. Among them were retired judges, professors of economics and of law, and practicing lawyers and attorneys.
Delegates spent three days at the Faculty attending roundtables covering offshore accounts, banking, and criminal law. A session on public sector oversight included discussions with former Auditor General Denis Desautels while a session to discuss civil society contributions to controlling corruption featured Hutton and La Presse journalist André Noël. The delegation also traveled to Ottawa, where they met with Chief Justice Beverley McLachlin and with Conflict of Interest and Ethics Commissioner Mary Dawson.
The Faculty has been providing expert legal support to senior Russian jurists since 1997, during the country's ambitious modern project of civil law reform.
"In Russia, McGill's bijuridical and bilingual program has the highest reputation of international law faculties," noted Peter Sahlas, BCL/LLB'99, who works closely with CLES and who coordinated early connections between McGill and the Research Center for Private Law in Russia.
The partnership continues today with a new project started in May 2011 in partnership with CLES to investigate the rule of law and economic development in the country.
The subject of the rule of law in Russia is an urgent one: upon taking office in May 2008, President Dmitry Medvedev immediately decried the "legal nihilism" that had supplanted the legitimacy of laws and enforcement authorities, but attempts at legal reform so far have been met with inertia from state officials and resistance from vested interests.
During the delegation's roundtable on civil society, CLES Head of Research Elena Novikova addressed this resistance and inertia: "There are economists in Russia who say that corruption is a necessary grease for the economy to function in countries such as Russia, China or India," she said in Russian, with audible frustration.
The roundtables had a particularly international flavour, with participants donning earpieces and speaking into microphones that allowed for simultaneous translation, creating a multi-lingual effect in which a question might be asked in Russian, immediately answered in French and then further discussed in English.
"For you, this probably sounds unbelievable, but this argument about necessary corruption comes from the opinions of experts in our country," Novikova continued. "How are we supposed to answer this?"
"My first question would be, 'Who is paying these economists?'" Hutton replied, drawing laughter and applause from the Russian delegates. He added that the argument is not a new one and reiterated his call for making everything public: "Red tape facilitates corruption whereas clear, simple and transparent rules decrease the discretion officials have in making decisions that can be influenced."
La Presse investigative reporter André Noël pointed out that Canada is not immune from corruption and that a recent string of scandals in Quebec alone, resulting in inquiries such as the Bastarache and the Charbonneau commissions, have raised public awareness about the problem.
"This series of workshops is the first step in strengthening McGill's partnership with CLES, which we hope to continue in the coming years," said Nandini Ramanujam, one of the principal investigators of the current McGill project. "The workshops also helped the Canadian experts gain some insights into the actors and factors responsible for the deficit of the rule of law in Russia."
Indeed, the delegation's visit prompted soul-searching on the subject of rule of law among Russian and Canadian participants alike.
"I feel much more optimistic and supported because we have been able to develop a better understanding of the comparisons between countries," Novikova said. "I feel stimulated to do something more because I see how it is possible to achieve something here."
Added McGill professor and roundtable chair David Lametti, "Our discussions pose a challenge to both the Russians and the Canadians – to those of us Canadians who have been willfully blind or naïve about corruption in Canada and to the Russians, who will want to take away from the Canadian example what works and to realize what doesn't work."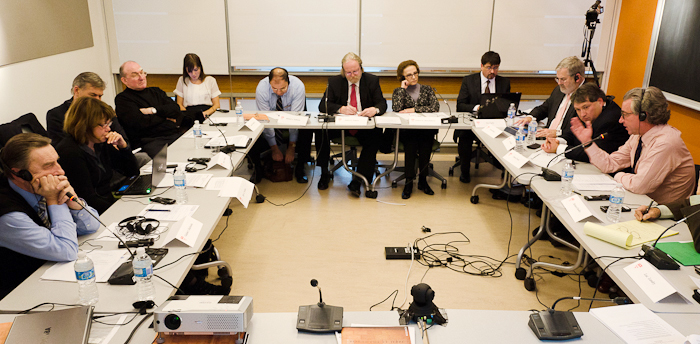 A session on criminal law invited members of the criminal law court magistrature, criminal prosecution and law enforcement to speak with the delegation.