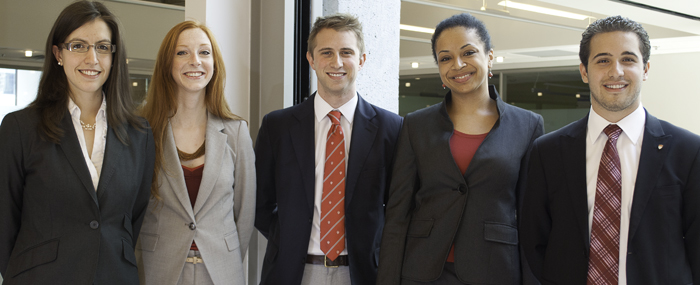 The Faculty continues its record of sending students in large numbers to clerk at the Supreme Court of Canada: for 2012, six of the 27 clerks at the Court will be McGill Law graduates.
An early morning phone call from an unrecognized number, bearing exuberant news – it's how many a Nobel Prize winner finds out he or she is a new laureate and it's also how six McGill students found out they had been selected as 2012-2013 clerks at the Supreme Court of Canada.
"The switchboard is the first voice you hear, then there's a pause and the Justice comes on," explained Michael Bookman, who will be clerking for Justice Louise Charron.
Both Corey Omer (Justice Morris Fish) and Annamaria Enenajor (Justice Marie Deschamps) missed their calls and instead received a voice message they will not soon forget.
"My phone rang at 9 am and I saw that it was a blocked call," Omer said. "I thought it was one of the staff that I work with… but when I listened to the voicemail, it said, "Hi, this is Justice Fish," and I thought, 'Oh, my god!'
While their clerkships are likely to present the students with a host of eclectic experiences (including undergoing security clearance at "Level II – Secret"), these six students' current extracurricular involvement epitomizes the diversity of interests at the Faculty.
To name but a few activities: Enenajor is the editor of the McGill International Journal of Sustainable Development Law and Policy, Adela Gotz (clerking for Justice Thomas Cromwell) is a regular volunteer at the McGill Legal Information Clinic, and Mary Race (clerking for Justice Louis Lebel) was the 2009 president of the McGill chapter of the Animal Legal Defense Fund.
Anja Kortenaar (clerking for Justice Ian Binnie) works for the McGill International Criminal Justice Clinic, while Omer is president of Hillel House Montreal and Bookman is a reservist in the Canadian Navy.
The Court selects 27 law graduates from across the country every year to research points of law, prepare memoranda and provide assistance to the nine justices. Clerks are expected to be fluent in English and French as well as able to understand both common law and civil law – requirements for which the McGill Programme, which integrates both legal traditions in a multilingual setting, seems uncannily well-suited.
Indeed, in the past decade, the Court has chosen an impressive 61 McGill students as clerks; this year's roster brings the total to 67.