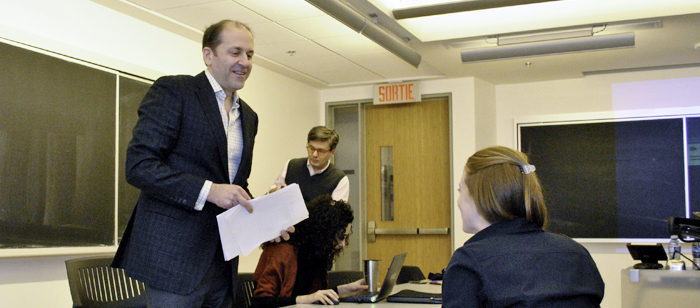 Marc Barbeau chats with a student after his business law class.
Looking beyond casebooks and exams
by Victoria Leenders-Cheng
Marc Barbeau, BCL'84, LLB'85, arrives to teach his Friday morning class at the Faculty bearing some unusual accoutrements: in his briefcase, he carries a few bottles of water and in his hand he holds a black and orange eight-outlet power strip.
It is presentation day in Origins of Financial and Corporate Law and Barbeau's accessories are there to ensure that things go smoothly for the students. The water bottles he offers to the presenters in case their throats go dry as they prepare to speak; the power strip he sets up on the side of the room without wall outlets, should the students want to plug their laptops in over there.
Just as a presentation is more than PowerPoint slides or public speaking skills, so, to Barbeau, is a legal education more than the sum of its academic parts and it is this belief that prompted Barbeau to establish a fund at the Faculty devoted to supporting students in all aspects of their education.
"Any student comes in here just knowing that it's going to be a very challenging and exciting time," he explained in a recent interview. "You are going to learn a lot and work very hard. You focus on what you're doing but you also try to figure out what it is you are going to do after and what it all means."
Having graduated in 1984, Barbeau and his classmates celebrated their 25th anniversary reunion in 2009 and the occasion prompted him to think about the course of his career in the past 25 years, from student at McGill to partner in the Business Law Group and member of the Board of Directors at Stikeman Elliott today.
For Barbeau, the interactions he had with professors at the Faculty, including Professors Yves-Marie Morissette, Rod Macdonald and Madeleine Cantin-Cumyn, were foundational, as was the year he spent in France studying French public law.
But, as he noted to laughter during a speech at a student-donor reception in March, he ended up practicing business law and, "in the end, nothing can have been less directly relevant to what I am doing now than what I sought to learn about in France."
Still, he added, this freedom to explore and to learn about himself proved immeasurably important to his own career: "I was fortunate enough in having all kinds of support and contact, people who gave me insights, who helped me through that process [while I was at McGill]."
One core figure in that process was Ilana Lederer, a beloved student affairs officer for whom Barbeau asked that the fund be named. Lederer, who started working at the Faculty in 1975, earned the affectionate nickname "mother-in-law" for the care and kindness she showed faculty members and students. When she died of cancer in 1993, the Faculty created a plaque in her honour, including then-Dean Morisette's memorial address, which Barbeau came across in preparing for his 25th anniversary reunion.
"What better symbol of [supporting students] in their education in the broadest sense than Mrs. Lederer?" Barbeau noted. "She was there for us when we were here, in all those ways that have little to do directly with legal education but have everything to do with growing up and learning about life."
Do you have a particularly fond memory of Mrs. Lederer? Did your year abroad play a part in your career path?
Please share your memories of your student experiences with us by writing to ebulletin.law@mcgill.ca. We hope to showcase some of these moments in a future edition of Law Focus magazine and welcome your input!
Photo credit: Lysanne Larose.
Going the distance for McGill
-Allyson Rowley, BA'77
At one in the morning on September 28, 2010, Jordan Waxman entered the English Channel and began swimming. Fourteen hours later, the three-time McGill graduate (BA'86, LLB'91, BCL'92) emerged on the coast of France and held up a McGill flag.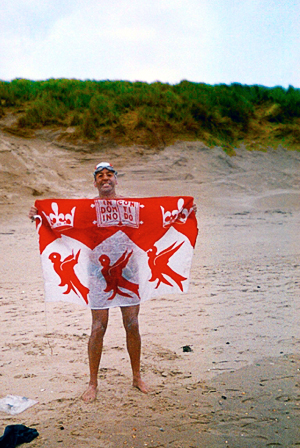 "It was humbling – an epic battle," Waxman remembers. He had been in peak physical condition six weeks earlier, but high winds had forced a delay to his plans. During the swim, he ingested 800 calories an hour, but he notes it's not so much the distance, but the time spent in 15-degree Celsius water (wearing only a Speedo, by the way). "Just the last three kilometers took three hours," he says with a grin. Fittingly, the motto on his Road ID bracelet is: Never Give Up.
Waxman describes himself as a multi-tasker, a skill which must come in handy: In addition to marathon swimming, he races in Ironman competitions, he and his wife have three children, and he is a Senior Vice President with Merrill Lynch Private Banking in New York. And he is slated to co-teach an investment course at the Desautels Faculty of Management in fall 2011.
"I'm blessed to have a good career," says Waxman, who credits his McGill education as well as his experiences as a student leader. A loyal McGill donor since 1994, Waxman routinely counsels his own clients on their charitable giving. Now, he has established the Jordan H. Waxman Entrance Scholarship with a gift from his charitable fund, matched by both the University and Bank of America.
The scholarship will support outstanding Law undergraduates who have shown leadership in extracurricular and community activities. "One of the things I'm proudest of is receiving the Scarlet Key award," he says. "I would like the Law Faculty to attract students who are well-rounded individuals, leaders in athletics, community service, politics, or other extracurricular activities."
"Think of all the leaders who have come from McGill," says Waxman, who encourages others to "give generously to the causes that matter to you, even at a young age. The more you give, the more you receive."
Thank you
The Faculty would also like to acknowledge the generosity of donors who have made recent contributions to important research initiatives:
The Nicolas Matte Fund for Space Law has been established to support the work of the Annals of Air and Space Law, a journal devoted to fostering the free exchange of ideas and information pertaining to the law applicable to aerospace activities, from domestic and international air law to the law of space applications.
The Law Deans' Fund for Private and Comparative Law recognizes the contributions of Dean John W. Durnford and Dean Nicholas Kasirer to research in Quebec civil law and will support the activities of the Quebec Research Center for Private and Comparative Law (QRCPCL) via student research assistantships, courses, conferences and post-doctoral fellowships.