McGill Law had a strong presence at the Second Annual Canadian Food Law and Policy Conference, which was hosted by the University of Ottawa's Faculty of Law in November, with several students and faculty members participating.
This year's conference, "Taking Stock/Prenons la mesure", came at a critical juncture as the Government of Canada is tasked with making a food policy for Canada.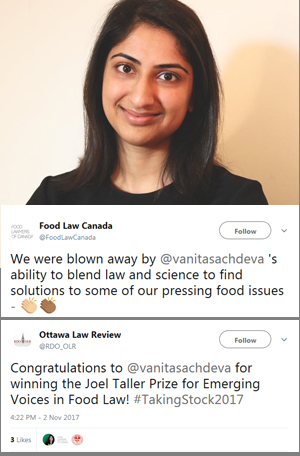 The McGill Food Law Society organized for a delegation of ten students to attend. This gave them an opportunity to participate in the development and expansion of Canadian food law, and to contribute to proposals for new food laws and policies that will have direct impacts on food producers, distributors, and consumers.
The students benefited from panels addressing the country's most pressing food law and policy issues, and engaged with eminent academics, lawyers in the public and private sectors, policy makers, food producers, and civil society groups.
A notable highlight of the conference, McGill BCL/LLB candidate Vanita Sachdeva (shown on right) was awarded the Gowling WLG Joel Taller Prize for Emerging Voices in Food Law for her research on enabling policy environment for agricultural innovation by exploring the legal barriers in the adoption of waste-derived fertilizers.
Professors Pierre-Emmanuel Moyse and Nandini Ramanujam, as well as DCL candidate Sarah Berger-Richardson and BCL/LLB candidate Talia Ralph also presented their food law research. Topics ranged from Indigenous food insecurity to food waste regulations.
Students at the Faculty are now eager to continue pursuing their interests in Food Law. This semester alone, the McGill Food Law Society has organized several events such as a talk on terroir, another on animal law, and a food law writing workshop. Moreover, BCL/LLB candidate Jessica Cytryn has been named the Centre for Intellectual Property Policy's Lallemand Food Law Scholar, and is tasked with creating a new food law stream for the Centre.
It looks like food law and policy have found a home at the Faculty.
By Jessica Cytryn, BCL/LLB candidate.