Building bridges with Asia
Driven by student interest and new partnerships with institutions abroad, the Faculty unveils an exciting agenda for academic and professional opportunities in Asia.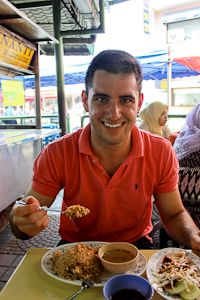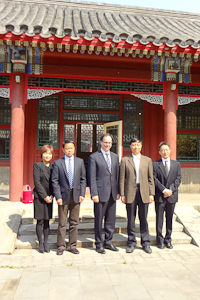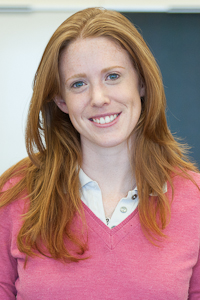 It was only Marco Garofalo's second day working for the Consilium Law Corporation in Singapore, but he found himself thrust straight into action the moment he stepped into the law firm's offices on Orchard Road, in the commercial heart of Singapore.
"The firm hadn't received its electronic filing system yet – it was scheduled to be installed the week after I arrived – so on my second day, I got to go to the filing office and filed court documents," says Garofalo, who is in his first year of studies at the Faculty. "I later found out that is something articling students [who have completed their studies in law] normally do."
Garofalo's boss and mentor, Franca Ciambella, obtained a licence to practice law in Singapore and established Consilium in October 2010, after twenty years working for international firms in Singapore. A 1984 McGill management graduate with bar admission in Quebec and New York as well, Ciambella is managing director of Consilium and is currently building the firm's family and corporate law portfolios.
"My summer at Consilium gave me tremendous exposure to drafting and even court runs, and a fantastic introduction to lawyering," Garofalo resumed. Indeed, based on his positive experience at the firm, the Faculty has since set up a regular internship at Consilium and two students will head to Singapore in the summer of 2012, also to work for Ciambella.
This development is but one in a slew of new ties flourishing between the Faculty and various law firms and law schools in Asia.
In April, Dean Daniel Jutras toured Hong Kong, Singapore, Shanghai and Beijing, meeting with McGill students and alumni as well as counterparts from local universities.
Out of this visit emerged a series of new academic and career development opportunities, including student exchanges, joint international workshops and faculty term visits at the National University of Singapore; a student exchange agreement with Hong Kong University and with Fudan University's School of Law in Shanghai beginning in 2012.
"There are so many exciting opportunities to study and work in the Asia Pacific region," notes Carly Klinkhoff, president of the Asia Pacific Law Association of McGill (APLAM).
Klinkhoff, who studied at Fudan University on exchange as an undergraduate student, spent the summer after her first year working for a law firm in Shanghai. She notes that she is far from the only McGill Law student pursuing these opportunities.
"In the past year, two first-year students took part in a study trip to Taiwan, a second-year student worked for a law firm in Shanghai, and two others went to Singapore and Beijing for semesters abroad," she says, adding that APLAM also introduced a new internship initiative with a focus on Asia in early 2011.
"We organized a resume collection with the Career Development Office and with Andrew Work, a McGill grad and the Executive Director of the Canadian Chamber of Commerce in Hong Kong," she explains. "We sent them a booklet of CVs of candidates and interested companies contacted the law students directly."
The student association is organizing a series of lectures and panel discussions this fall, including a discussion about the current state of diversity in the legal profession and another one on entrepreneurship in Asia in November.
"There is such a fire in the belly for entrepreneurship in Asia right now," Garafalo says, adding that his experience at Consilium opened his eyes to the demand for lawyers with expertise in both international and local contexts.
"In Singapore, for example, there are local firms, who practice local law and don't really have any knowledge of international practices and international firms who can't practice Singaporean law," he says. "Franca is uniquely positioned between them. Her knowledge of both areas of law is a huge asset that has helped me define where I want to take my own career."