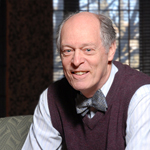 Roderick A. Macdonald, F.R. Scott Professor of Constitutional and Public Law at McGill's Faculty of Law, has been named to the Charbonneau commission, which has been charged with examining allegations of corruption in the construction industry.
Macdonald, in response to commission head France Charbonneau's announcement of her co-commissioners on November 9, stated that he is both humbled by and hopeful about his role. Quebec Auditor General Renaud Lachance will round out the team of three commissioners and Macdonald had high praise for his two fellow commissioners.
"Madam Justice France Charbonneau is a very wise and seasoned judge who had an outstanding career as a prosecutor. Recall that she was the one who put "Mom" Boucher in jail and she isn't going to be pushed around by anybody."
"Following the money is going to be a very important part of this Commission, but unless you've been a senior public servant or a forensic accountant, you don't necessarily know how to follow the money," Macdonald explained. "Renaud Lachance, as former Auditor General of the province, certainly knows the machinery of government and knows how to trace the money."
Macdonald stated that his own area of expertise concerns issues of institutional design and accountability, including mechanisms for educating the public about structures of accountability and governance in a democracy. "Whatever I may be able to make flows directly from what I teach at this Faculty (Administrative Process), which is all about the choice of governing instruments," he said.
Macdonald previously acted as a consultant for the Royal Commission on Aboriginal Peoples (1991-1992) and for the Bouchard-Taylor Commission (2007-2008). In 2006, he led an expert panel charged by the Quebec government to examine if any measures to prevent Strategic Lawsuits Against Public Participation (SLAPPs) should be adopted.
Professor Macdonald, who was Dean of the Faculty of Law from 1984 to 1989, recently received McGill's Lifetime Achievement Award for Leadership in Learning, in recognition of his outstanding contributions to legal and public education.
Interview by Victoria Leenders-Cheng. Photo by Lysanne Larose.
See also:
http://www.ledevoir.com/politique/quebec/335725/charest-cede-sur-toute-la-ligne
http://www.cbc.ca/news/canada/montreal/story/2011/11/09/mtl-inquiryexpands.html
http://tvanouvelles.ca/lcn/infos/national/archives/2011/11/20111109-213944.html