Roger Carter scholarship recipient and third-year law student Jessica Labranche-Hamelin has an impressive resume that points to the importance both of academic achievement and community involvement
By Victoria Leenders-Cheng; Photos by Lysanne Larose
When Jessica Labranche-Hamelin arrived at McGill to begin her studies in law, she resisted the impulse to spend all her days in the library, studying to adjust to the heavy academic demands of the program, and instead threw herself into working with the community.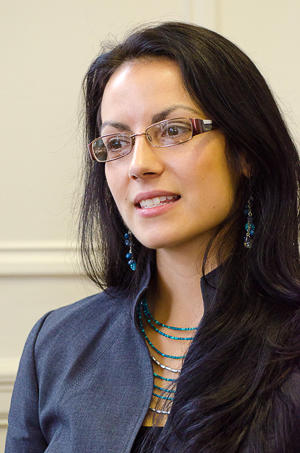 "Participating (…) is a way to learn directly about issues and to learn important life skills – how to communicate with people or how to be compassionate – skills that can increase our cultural sensitivity and that are an equally important part of a legal education."
She became a member of the Aboriginal Law Association, volunteered to sit on the board of the Native Women's Shelter of Montreal, participated in a high school outreach program designed to connect law students with local teens and retained her membership in the Golden Key Society's Concordia chapter, which she had joined as an undergraduate there majoring in political science.
"Getting good grades is obviously important to me, but my main focus is on education," she said, explaining that the distinction lies in enabling a better understanding of aboriginal people and their history, both among the aboriginal community itself and among broader audiences across the campus, city, province and country. "I hope eventually to work in aboriginal law and to stay grounded in what its community needs are, which includes improving conditions for aboriginal people and raising awareness about the events that affect them."
In recognition in part for her contributions, Labranche-Hamelin was one of this year's four recipients of a Roger Carter Scholarship, awarded by the Native Law Centre in honor of the late Roger Carter, Q.C., who founded the Program of Legal Studies for Native People in 1973 and the Native Law Centre in 1975.
Labranche-Hamelin's roster of activities provides a snapshot of her contributions to the many vibrant conversations about aboriginal issues taking place at the Faculty.
Last year, she helped to organize 13 days of events to honour aboriginal women. Spanning the two weeks following International Women's Day, the events included a photo exhibit, a film screening, a spoken word workshop, a fundraising dinner for the Native Women's Shelter and a vigil on Parliament Hill to draw attention to women who went missing or who were murdered along British Columbia's notorious Highway of Tears.
This fall, she has helped to coordinate an event to discuss the residential school experience in Canada and a one-day workshop in conjunction with the Centre for Human Rights and Legal Pluralism to present different perspectives on the function of truth and reconciliation commissions, with a second workshop to follow in 2012.
For the winter term coming up, Labranche-Hamelin is organizing a cross-disciplinary event to address some of the issues arising from the Quebec government's Plan Nord initiative, which holds significant implications for northern communities such as the Innu, Cree, Algonqui and Inuit communities. She is also a member of the team that will take part in the Kawaskimhon Aboriginal Moot in March 2012, which this year will focus on the negotiation process for interpreting historic treaties.
"A lot of issues in aboriginal law are foundational to the Canadian Constitution," Labranche-Hamelin points out. "Participating in these events is a way to learn directly about these issues and to learn important life skills – how to communicate with people or how to be compassionate – skills that can increase our cultural sensitivity and that are an equally important part of a legal education."