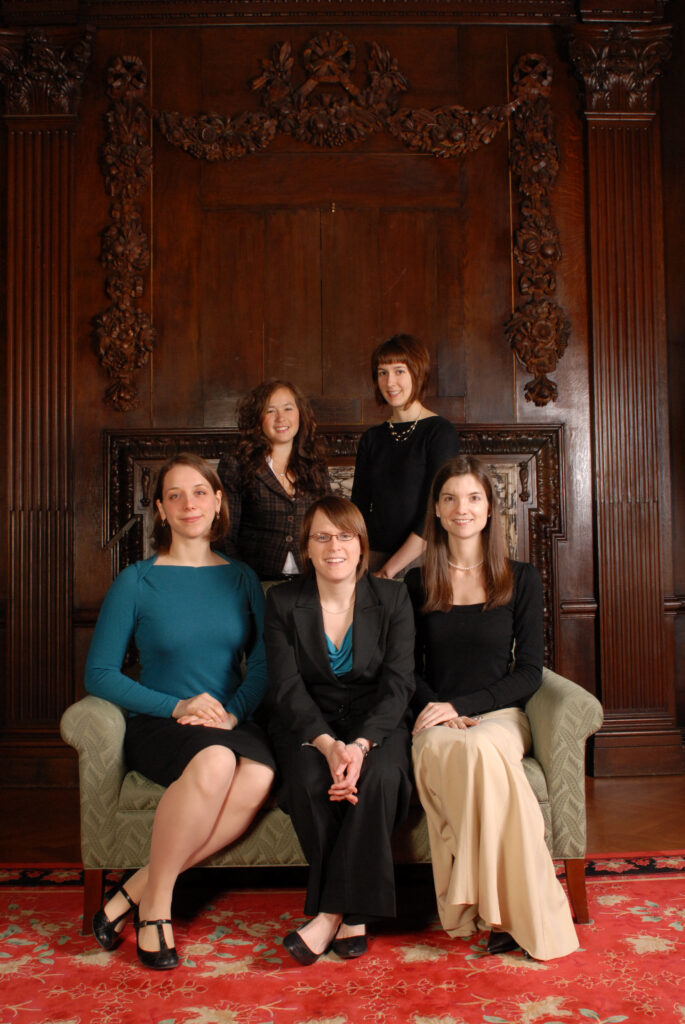 For the sixth year in a row, McGill will be sending more clerks to the Supreme Court than any other Canadian university. Five students from the Faculty of Law have been selected for the prestigious positions, which last a full year beginning in August 2010.
Third-year law student Erin Morgan says she is thrilled to be chosen for one of the most sought-after jobs available to aspiring jurists. "Clerks get to see the most important cases in the country first-hand, and witness the decision-making process. In our classes we read a lot of judgments, but without actually working with a judge, we don't get to see how those judgments are formed."
As Canada's highest court, the Supreme Court takes on the country's most important – and sometimes most controversial – cases. Professor Robert Leckey worked as a clerk for the now-retired Justice Michel Bastarache in 2002-03. He says the job comes with an enormous level of responsibility, because the clerks help to inform their judge's rulings.
"Judges are very isolated in their work, so they look to their clerks for new ideas, as well as research and writing," says Leckey, who now coordinates the application process at McGill. "Twenty years from now, the fact that these students have clerked will still be on their CVs."
While hundreds of people graduate every year from Canada's 21 law schools, there are only 27 clerkships to go around – three for each of the nine Supreme Court Justices. Despite fierce competition, McGill consistently sends a high number of students to clerk at the Supreme Court. Five McGill clerks were selected in 2001, seven in 2002, three in 2003, six in 2004, five in 2005, a record-breaking eight in 2006 and 2007, and six last year.
Leckey believes the quality of McGill's students is one very important factor in this success. But he says the bilingual and bijural nature of the program can also be credited: "Our students are bright, mature, and most of them had interesting experiences before coming here. They are also bilingual and familiar with common and civil law." Leckey also notes that, while it is difficult to pinpoint causation, the numbers of clerks have increased in the decade since the introduction of the transsystemic McGill program.
Morgan acknowledges the edge that the Faculty of Law's unique program gave her: "Most judges hire at least one clerk trained in civil law who speaks French. They could of course choose somebody from another Quebec school, but it's a huge advantage to be able to compete in both Francophone and Anglophone pools, and to have grounding in both civil law and common law."
That "grounding" might help – but it doesn't necessarily alleviate the pressure. Morgan had back-to-back interviews with six of the nine Supreme Court Justices. "Some asked really tough substantive legal questions, and when I was answering I had no idea whether they appreciated what I had to say, or whether they thought I was complete rubbish," she says.
While Leckey's role is to help students tailor their applications, he says it's ultimately up to the judges to decide whom they want to work with. The Chief Justice selects her three clerks at the outset. The other judges pick their clerks in a selection process – like a hockey pool – based on seniority on the bench. "The thing is that no matter how well you do, you also know how strong your friends are as candidates. It's nerve-racking," says Morgan. "Just because you have six interviews doesn't mean anyone is going to pick you."
With the stress of the selection process behind her, Morgan can finally begin to look forward to next summer. She says she's excited to work closely with Justice Ian Binnie, other law students from across the country, as well as her friends and colleagues from McGill. "They are four bright, hardworking people – and they're a lot of fun. I can hardly wait!"
The McGill students selected for clerkships beginning in the summer of 2010 are: Erin Morgan (with Justice Ian Binnie), Virginie Marier (with Justice Morris Fish), Palma Paciocco (with Justice Louise Charron), Jennifer Klinck (with Justice Marshall Rothstein) and Elizabeth France (with Justice Thomas Cromwell).
McGill's Faculty of Law is also celebrating six students selected for clerkships at the Federal Court and the Federal Court of Appeal: Thomas Lipton, Megan Howatt, Kristin McHale, Kerianne Wilson, Sophie Thanh Lan Dorais and Flora Lê.