Our 2009 competitive moot teams proudly show off their many prizes on the Common Room steps.
Helena Lamed has a theory why so many of our students vie to take part in competitive moots: "They love the experience, they love the team-work, and they love the intense competition – both against other faculties, and against other high-caliber performers."
Mooting competitions are mock trials where law students plead cases as if they were before a real court. While mooting is compulsory for second-year McGill Law students, dozens voluntarily repeat the process in a host of competitive moots across the province, country, and around the world.
As coordinator of competitive mooting here at the Faculty, Lamed has seen hundreds of students audition to take part in these competitions – and dozens of students come back to McGill with trophies in hand.
"The experience is extremely valuable, because mooting exposes students to a variety of contemporary legal issues – such as intellectual property law, criminal law, or international law," she says. Here are just some of the Faculty's recent mooting successes:
Home from Vienna with multiple Vis awards
The Vienna Vis team: coach Martin Doe (BCL/LLB'08), Élise Béland, professor Frédéric Bachand, Anja Grabundzija, Paula Viola and Eric van Eyken are all smiles.
McGill's team returned from Vienna in April with the highest number of awards this side of the Atlantic, in the annual Willem C. Vis International Commercial Arbitration Moot.
Élise Béland, Anja Grabundzija, Paula Viola and Eric van Eyken took Second Place in the Claimant's memo category, and received an Honourable Mention for their Respondent's Memo. Grabundzija and Viola also received Honorable mentions for best "individual oralists" in the oral elimination rounds.
More than 230 universities from 58 countries participated in this year's Vis Moot, held annually in Vienna to foster the study of international commercial law and arbitration in the resolution of international business disputes.
Top spot at Guérin leads to Sopinka
Andrew Carvajal (left) and Alexandre Bien-Aimé (right) won the Guérin Cup, defending "Charles Landry" (centre) in a dangerous driving criminal case.
Alexandre Bien-Aimé won Best Opening Statement at this year's Sopinka Cup, held in Ottawa in mid-March. Bien-Aimé and team mate Andrew Carvajal qualified for the national mooting competition after taking First Prize at the Quebec Round of the Sopinka, the Guy-Guérin Cup.
At the Guy-Guérin, which was held at the Montreal courthouse in February, Bien-Aimé also won the individual prize for Best Opening Statement and Carvajal for Best Pleader. According to Professor Ron Sklar, "Both were at the very top of their game in the nearly four-hour trial."
Canadian pride at the International Jessup
For the second time in a decade, McGill's Jessup Moot Team qualified to compete in the The Philip C. Jessup International Law Moot Court Competition, held March 22 to 28 in Washington D.C.
Students Angus MacLean Rennie, Lee Rovinescu, Sandrina Antohi and Arezou Farivar were invited to the prestigious international competition after placing third at the national qualifying tournament hosted by Western University in early March. Among the highlights cited by team members: A banquet attended by former International Court of Justice president Dame Rosalyn Higgins, DBE, QC; and the 'Go National Dress Ball' where every team had to don their national costume. "We all wore our hockey jerseys," says Rovinescu.
Arezou Farivar, Sandrina Antohi, Angus MacLean Rennie and Lee Rovinescu sporting their hockey sweaters at the Jessup's 'Go National Dress Ball'.
The Jessup gathers over a thousand students from 500 law schools in more than 80 countries to simulate a dispute between countries before the International Court of Justice, the judicial organ of the United Nations. This was McGill's first team at the international competition since 2000.
Second Overall at Laskin Moot
The McGill Laskin team: Keith Serry, Stéphanie Bachand, Palma Paciocco, Justice Roberts (Newfoundland Court of Appeal) and Owen Ripley.
Students Keith Serry, Stéphanie Bachand, Palma Paciocco and Owen Ripley placed second overall at the 2009 Laskin Moot, out of 19 participating universities.
This year's contest took place in London, Ontario, from February 26 to 28, 2009. The problem, Samuel de Champlain v. The Queen, raised questions of constitutional and administrative law related to the judicial appointment process to the Federal Court of Appeal.
Showdown at Fox IP Moot
Marguerite Tinawi, Seo Yun Yang, Lauren Chang MacLean and Guy-Philippe Bouchard celebrate with coach Prof. Pierre-Emmanuel Moyse (centre) at the Fox IP Moot.
It was a dramatic competition for McGill students, who participated for the first time at the annual Harold J. Fox Moot in intellectual property law, last Feburary in Toronto.
Ten teams were eliminated after two tough preliminary rounds. But two McGill teams were among the four left standing – and when it came time for the semi-finals, the two McGill teams had to go head-to-head.
McGill's appellant team was comprised of Lauren Chang MacLean and Guy-Philippe Bouchard, who were pitted against the respondent team, Marguerite Tinawi and Seo Yun Yang. Chang MacLean and Bouchard made it to the final round, placing second overall.
Mignault hat trick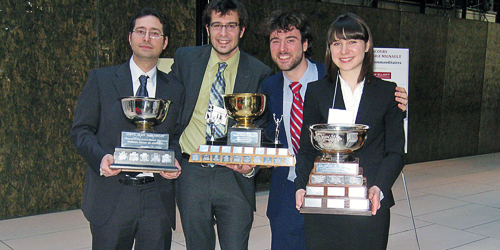 Narimane Nabahi, Alexandre Forest, Olivier Cournoyer Boutin and Benedicte Martin celebrate their Mignault Moot triple win.
McGill students took home three prizes at this year's Pierre-Basile Mignault Moot competition on Quebec civil law, hosted in February at McGill's Faculty of Law.
Best team was awarded to Narimane Nabahi, Alexandre Forest, Olivier Cournoyer Boutin and Benedicte Martin; Best pair of pleaders went to Narimane Nabahi and Benedicte Martin; and Best factum went to Alexandre Forest and Olivier Cournoyer Boutin.
The Mignault Moot is held every year at one of six Quebec and Ontario law schools to stimulate interest and scholarship in Quebec's Civil Law Code.
McGill takes two top Wilson pleading prizes
"We had an excellent time, and some really good rounds," says Joyce Tam of her team's experience at the national Wilson Moot.
Tam was joined by fellow students Mikhail Iokheles, Derrick McIntosh and Marie-Claude Mercier at the competition held in Toronto last February. She says the team also had reason to be proud, as Mercier was named the second-best pleader overall and McIntosh placed fourth.
Named in honour of Bertha Wilson, the first woman Justice of the Supreme Court of Canada, the annual Wilson Moot competition recreates an appeal of a Charter equality rights case.
Six prizes at the Charles-Rousseau
This year's Charles-Rousseau moot team, composed of Louis-Antoine Côté, Noémie Bégin, Sophie Tremblay and Alice Monet, came back from Brussels with no less than six prizes, including the top Charles-Roussau prize.
Furthermore, Louis-Antoine, Noémie, Sophie and Alice were respectively awarded prizes for the 6th, 7th, 8th, and 10th best oralist during the preliminary rounds. Noémie was also awarded a special prize for best mooter of the final round, a prize which she received from François Rousseau, the son of Charles Rousseau.
The 25th edition of the Charles-Rousseau public international law moot was held in May 2009 at the Université Libre de Bruxelles in Belgium and twenty teams from the francophonie participated.
This moot was created in 1985 in honour of one of the most eminent authors of post-war French doctrine on international law, Charles Rousseau (1902-1993).